News
Welcome to packaging knowledge, the online packaging magazine from The Packaging Institute.
You can freely review any of our latest packaging articles or see below to find out what's hot in the world of polythene!
Polybags take step into the blue with new winter catalogue
The UK's number one polythene packaging manufacturer, Polybags Ltd, have surprised the packaging world with a brand new catalogue in a new winter colour.
Renowned for their bold magenta branding, Polybags have taken an unexpected step by releasing their new winter catalogue in a seasonal blue.
You can browse the full catalogue online at Polybags.co.uk and, if you'd like to see the new winter blue design in all its glory, simply order a catalogue online and the friendly Polybags team will pop one in the post.
With over 100 million bags in stock, the new catalogue features Polybags' full range of autumn/winter stock to keep you going through the coldest months of the year. But don't worry, their marketing team assure us that their traditional magenta will return along with the warmer weather!
Featuring a dozen easy-to-browse categories from packing bags to waste sacks, the new winter catalogue covers every product in Polybags' expanding range, including a host of new products such as wicketed food bags and resealable stand-up pouches - the ideal packaging for a range of food products.
With free samples available to try before you buy, a bespoke printed service on most products, along with free delivery to mainland UK and their famous no-quibbles guarantee, it's easy to see why Polybags have been leading the way in UK packaging for over 55 years.
So take a step into the blue a get yourself a copy of the Polybags winter catalogue today.
Scientists discover plastic-eating bacteria
The way we deal with plastic waste could be revolutionised after the discovery of a new bacteria that 'eats' one of the most common forms of plastic.
A team of scientists in Japan discovered that the new species of bacteria, known as Ideonella sakaiensis 201-F6, could break down polyethylene terephthalate - or PET - which is used to make millions of plastic bottles a year.
Shosuke Yoshida and his colleagues from Keio University and the Kyoto Institute of Technology analysed debris from outside a plastic recycling facility and found the bacteria could use PET as its main energy and carbon source.
When grown on PET, the bacterium used two distinct enzymes that reacted with water to break down the plastic into two environmentally-benign substances: terephthalic acid and ethylene glycol.
The ability to degrade PET through enzymes had previously been thought to be limited to a few species of fungus, but the new bacteria was found to completely degrade a thin layer of PET after just six weeks.
The discovery, reported in the journal Science, could be a revolutionary breakthrough for the packaging industry if the process can be sped up significantly.
Researchers have already sequenced the bacteria's genome in a bid to build stronger and faster strains. The packaging and recycling communities await the results with interest.
Christmas gifts for polythene packaging shoppers
Christmas isn't just a good time for online retailers because of bumper sales (see 'Record Christmas deliveries' article, below) but also because it's a great time to pick up some polythene packaging bargains.
With Christmas just around the corner, Polybags - the UK's number one polythene manufacturer - is currently providing customers with some festive cheer by offering a series of great offers, including 20% off all Mailtuf strong mailing sacks for the whole of December.
These smart, professional mailing bags are made from extra-strong 75 micron (300 gauge) co-extruded polythene meaning they can withstand plenty of bumps and scrapes, providing you with total peace of mind about your deliveries at this the busiest time of the year.
The fantastic offer of 20% off comes just in time for Christmas, as is the case for Polybags' range of supreme high tensile white vest carriers - Polybags' recommended carrier range and a perfect seasonal white - and their brilliant resealable stand-up pouches - the perfect range of display bags for a range of retail products, available in all-over crystal clear film or with a shiny metallic silver backing to really make your products sparkle.
Black Friday fever has gripped the nation with two specialist packaging websites offering big voucher deals that they have extended into December. Blacksacks.co.uk are offering 20% off economy black sacks when you spend just £30, while at mailingbags.co.uk you can get 20% off all secure black mailing sacks on all orders over £75.
So there's plenty for UK retailers and packaging customers to feel festive about, but the Christmas spirit isn't just restricted to this part of the world.
In Australia, Bee Dee Bags have got a fantastic range of Christmas packaging on offer, including loads of festive plastic carrier bags, Christmas paper bags and a range of non-woven calico bags, all featuring super festive designs.
In the United States, Plus Packaging Inc. have a fantastic range of offers for the holiday season from Thanksgiving through to Christmas, with 10% off all first time orders of printed plastic bags, printed tape or other custom-printed packaging until 30 December 2016. They're also giving away a free tape dispenser for anyone who buys five cases of 2" Poly Pro tape.
So whether you're down under, State-side or in the UK, now's the time to get your hands on all the polythene packaging you need for the festive season and grab yourself a bargain while you're at it.
Record Christmas deliveries set to provide festive cheer to retailers
The continued growth of online shopping means that Christmas 2016 is all set to be another bumper festive season for online retailers in the UK.
Royal Mail delivered 130 million parcels in December 2015, an increase of 6% on the previous year, thanks predominantly to the continued growth of online shopping.
Figures published by the IMRG Capgemini e-Retail Sales Index in January showed that UK shoppers spent £24bn online between 1 November and 26 December 2015 - an increase of 12% on the same period in 2014.
Sales peaked during the week of Black Friday, which falls on the fourth Friday in November each year and has recently become the biggest event in the retail calendar. 17% of Christmas sales took place during Black Friday week, an increase of 62% on the previous week, with bargain-hungry shoppers spending an estimated £4.3bn on discounted products.
Total online sales for 2015 reached £114bn - an increase of 11% on the previous 12 months - with a further growth of 11% forecast for 2016, predicting a staggering e-retail spend of £126bn this year.
This is good news for online retailers, mail order companies and eBay sellers, who can expect to be sending out parcels and packages in record numbers again this festive season.
5p carrier bag charge introduced in England
England has become the last part of the UK to introduce a levy on plastic carrier bags. From 5 October 2015, shoppers at major supermarkets and other large retailers have to pay a minimum of 5p for each carrier bag they use.
The new 'carrier bag tax' was implemented by the Department of Environment, Food and Rural Affairs (Defra) in a bid to significantly reduce the number of plastic bags taken away from shops. In 2014, 7.64 billion carrier bags were given out by major supermarkets in England.
The move follows the success of similar schemes in Wales, Scotland and Northern Ireland, which have all seen a reduction in carrier bag usage amongst consumers since they were implemented.
The launch of the scheme in England caused some confusion, however, due to a number of exemptions to when retailers must charge for bags, based on employee numbers, the thickness and style of carrier bag and the contents being sold.
To find out more about the exemptions one of the UK's leading carrier bag manufacturers has published a detailed guide on the carrier bag tax and who it affects.
New website offers instant quote on printed carrier bags
Retailers looking for personalised printed carrier bags will no longer have to wait for a quote on production costs thanks to a brand new online instant quote system - the first of its kind in the UK.
The feature has been developed by Polybags, one of the UK's leading polythene packaging manufacturers, and provides customers with a real-time instant quote on their order, 24 hours a day, seven days a week.
A simple order form on their website - Polybags.co.uk - provides customers with five simple choices on their printed carrier bag order: quantity, bag size, bag and ink colours and how many sides of the bag they wish to feature their design, which may include logos, slogans or other company branding.
Customers then just enter a few personal details, click 'Confirm' and their personalised quote is generated in seconds, with the price displayed on the screen and also emailed to the customer for their records. The whole process takes less than 60 seconds.
The instant quote system is the first of its kind in the UK and marks a significant development in the printed carrier bag market, where customers have until now had to complete an order form and await a callback during office hours to discuss their requirements. Customers who once might have waited a whole weekend to receive a quote, can now get one any time of day, 365 days a year.
According to the Polybags website, their new printed carrier service is "simple, fast & cheap", with the new instant quote system just part of a new streamlined order process, from website to production line.
With just five popular sizes to choose from, all made from 55 micron (220 gauge) polythene for smoother, thicker bags, Polybags are offering quality printed carriers from as little as 4p a bag - the lowest prices available on the web.
New anti-slip board breakthrough for transit packaging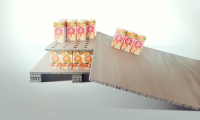 A revolutionary new anti-slip board is set to shake up the world of fast-moving consumer goods (FMCG) transit.
The packaging breakthrough has been created by Dufaylite, the UK's number one manufacturer of recycled paper honeycomb, as part of their expanding Envirolite range of secure transit packaging.
Created using the brand's signature honeycomb technology, the anti-slip board features a coating on the surface of paper, allowing for slip angles of up to 45 degrees.
Ideal for layer pads used in FMCG transit pallet packaging, the anti-slip board will help to improve the shipment process for many companies and suppliers by offering a more secure base to maintain product integrity during transit.
Ashley Moscrop, Group Director at Dufaylite, said: "Slipping and movement of layer pads in FMCG pallet packaging proves to be a daily challenge for suppliers and contractors in the industry, so we're thrilled to be able to launch the anti-slip board, which is a more secure transit alternative."
The new product is fully recyclable through traditional cardboard waste streams, offering the eco-friendly benefits that are synonymous with the Envirolite range.
To find out more visit www.enviro-lite.co.uk.
Bags of Christmas cheer for packaging buyers!
With the busy Christmas period now upon us, polythene and packaging retailers are offering incredible loss-leader deals on some of their staple products.
In the UK, sites like www.mailingbags.co.uk and www.blacksacks.co.uk are offering vouchers for a free box of Santa's favourite bin bags, while manufacturer and online-retailer Polybags are getting into the festive spirit by offering huge discounts on some of their most popular products raising a few eyebrows with worried competitors with offers currently including:
20% off 100% recycled blue vest carrier bags
30% off best-value heavy duty mailing bags
40% off black security mailing bags
40% off extra strong black rubbish sacks
The company have also introduced a whole new range of wallpaper and wrapping-paper carrier bags and an expanded range of retail display bags for clothing to cope with Christmas demand.
Meanwhile in North America, Nashville Wraps have been offering an extensive range of deals since black-friday and mega-monday on paper shopping bags, coloured tissue and Gloss gift boxes.
While down under in Australia, QIS Packaging are once again leading the antipodean way with some terrific seasonal offers on Christmas ribbons and Christmas wrapping with more promises of more products due to come nearer Christmas.
So wherever you are in the world, if your business ever uses packaging now is a great time to secure the deals and get the products you need to see you well in to the New Year!
Back to Black
A new website specialising in black bin liners, bin bags and other types of refuse sacks launched this week. The shop promises a one-stop-shop for businesses and households looking to buy rubbish bags. They also list a comprehensive range of coloured bags but the big emphasis for the site is on the humble black bin bag.
Kids cereal boxes plant fresh eco-packaging idea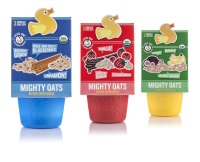 A children's food manufacturer in the United States has taken the idea of eco-packaging to the next level - a few inches below ground!
When kids finish their pot of Mighty Oats cereal, produced by Little Duck Organics, they just soak the packaging in water before burying it in the ground and - hey presto! - they can grow their own tasty vegetables.
The innovative Plantable Packaging concept - which features a seed-lined outer carton - was developed in partnership with UFP Technologies, a producer of speciality packaging.
The latest eco-packaging innovation from UFP, Plantable Packaging is made from 100% recycled and 100% recyclable fibre-board material that can be lined with variety of flower, herb and vegetable seeds, to suit the needs of the product.
When soaked in water for an hour and then planted in the ground, the seeds in the carton begin to emerge and, in the case of Mighty Oats, yield either tomatoes, lettuce or carrots.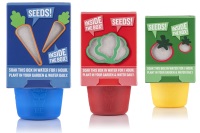 Combined with a cereal pot made from starch-based plastic resin, the fully-compostable packaging helps Little Ducks Organics to create a sustainable product that produces minimal waste, with the added fun of growing your own vegetables.
By encouraging kids to test out their green fingers, the Plantable Packaging fits well with the healthy, sustainable image given out by Little Ducks Organics, whose products are all 100% organic, non-GMO and contain no added sugar.
Aimed at kids aged four months old and upwards, the Mighty Oats range are made from a variety of ancient grains, fruits, and spices and comes in three flavours: Blueberry Cinnamon, Strawberry Vanilla and Coconut Banana.
By combining a healthy product and a fun, educational task with the packaging's vivid colours, catchy artwork and clever designs - including a potted plant icon and the words 'Compost Me' - it's easy to see how Mighty Oats might appeal to kids and parents alike.
Plastic bag manufacturers join in the festive cheer
"Christmas is coming,
The goose is getting fat,
Buy plastic bags for massive discounts,
It's the time of year for that!"
With the busy Christmas period soon upon us, now is the perfect time for retailers everywhere to stock up on their packaging and take advantage of the fantastic offers available with polythene manufacturers around the world.
In the UK, Polybags are getting into the festive spirit by offering fantastic discounts on some of their most popular carrier bags. They have 25% off their entire range of varigauge carrier bags - available in clear or white polythene or a variety of colours - whilst offering the UK's best 'Made to Order' quote for printed carriers, helping retailers to stand out from the crowd at this busy time of year with their own branded Christmas bags (minimum order 3,000).
Polybags are also offering 15% off both their range of premium fashion carriers - very popular with gift shops and jewellery stores - and their premier range of black sacks, made of strong black polythene that is tough to tear, making them perfect for budding santas everywhere.
In North America, Mapleleaf Promotions are offering fantastic discount rates on their range of personalised clear or coloured plastic bags for both American and Canadian clients, while down under in Australia, QIS Packaging are once again leading the way with some terrific seasonal offers. These include a stock clearance on small brown paper bags and great discounts on bulk orders of Christmas bags, wrapping paper and coloured paper bags, to bring a bit of life to your festive shopping.
So wherever you are in the world, if your business is in need of some festive cheer for its packaging this Christmas, now is a great time to stock up for the busiest few weeks of the year, taking advantage of some great festive offers while you're at it.
Vegware - Packaging made from plants
18th April 2013 - Vegware, a company providing environmentally-friendly food packaging, has beaten hundreds of entrants across the UK to win the FSB Streamline Business Awards.
The pioneering firm is the only UK business to provide completely compostable food packaging, avoiding resort to landfill or toxic incineration. Its 'eco-catering' products range from wine glasses to cutlery, all of which are based on renewable or recyclable materials, and are entirely plastic-free.
From just a team of two staff in 2009, the company now has customers and franchises across the globe, serving the hospitality and catering industries which have traditionally had a poor recycling rate.
Joe Frankel, MD and founder of Vegware commented: "We saw that foodservice needed packaging which can actually be recycled after use, and responded to that challenge. Our solution of certified compostable catering disposals and full recycling support is helping the UK's biggest operators meet sustainability targets and save money. As a result, we have enjoyed tenfold growth in three years, and now employ a team of 26, up from two in late 2009. The FSB win is our fifth this year alone, and is fantastic recognition that Vegware is making a positive contribution to the UK economy and global sustainability, and we are truly delighted to see our achievements rewarded."
Conventional food service packaging is made of a mixture of different materials. Whilst many of these materials may in theory be recyclable if kept clean and separate, once glued together and then covered in food residue, the item is generally condemned to being buried or at best, burnt. Vegware ensures that all materials are compostable which means they can be placed in the same bin as food waste after use, with no need for sorting.
The awards recognise the contribution of small businesses in fuelling the economy's growth, and the innovative approach business owners are making to boost their fortunes.
Darren Wilson, Managing Director, Streamline said: "Small businesses play a crucial role in supporting the UK economy and as Vegware has shown, the trajectory for growth can be staggering. Vegware identified a clear need in the marketplace, recognised the incentives for businesses to get on board, and made a compelling financial and environmental case for potential customers."
Colin Willman, Chairman, FSB (Member Services) commented: "We were impressed by the staggering growth of this company, which now has an established footprint in countries from the US to Australia. Vegware fulfills a real need in the world of catering and proves that eco credentials are right at the heart of our economy's future."
For more information, please visit Vegware
source: A Taylor, Cctopuscomms
Branded mailing bags - Who will win gold this summer?
London 2012 saw the pinnacle of sporting endeavour come to the UK, but the competition was not restricted to the Olympic venues last summer. In the packaging world, companies sought to gain every possible advantage at an incredibly busy time of year and using custom printed mailing bags was one of the most popular methods.
Customised mailbags featuring logos and sales messages help companies to distinguish themselves in a similar way to using carrier bags. In a competitive marketplace, a smart, clear branding message on a package or parcel can help a company stand out from the crowd.
Bespoke packaging shows that a company means business. It increases brand visibility and provides an extra form of marketing that doesn't cost the earth.
In the race to get your business Polybags now offer a fully-automated and instant online quoting system for their printed mailing bags service. The customised manufacturing service allows design and production of most sizes of co-ex printed mailing bags or mailing sacks, and offers competitve rates, even for very low print-runs. As a bonus if you order before 1 June 2013, you get 50% off all setup costs. You can also access this custom printed mailer service via mailing-bags.co.uk and mailorderbags.co.uk.
There may be no Olympics in 2013 but, in the world of branded packaging, the race is still definitely on. Will your company win gold this summer?
Printed Mailing Bags
If you would like to have your mailing bags printed with your own design Polybags can get it done for you. Have your polythene mailers manufactured with your logo printed and enhance your brand and look more professional. Mailers can be printed with vital information about your company, add your physical and or web address for example, and help customers get back to you.
Polybags can also help you choose the correct format for the envelopes or mailing bags and give you free samples. If you are reading this before 1st of September 2012 you will have a chance to have 50% off all setup costs when ordering printed mailing bags.
The offer is available on the Printed Mailing Bags form at Polybags.co.uk but is also featured prominently on sister sites like mailingbags.co.uk and mailingbags.co.
Christmas Sales
With Christmas just around the corner the big packaging companies around the world are rolling out their biggest offers. In the UK, Polybags are offering a staggering 40% off their entire range of heavy-duty mailing bags. In the US Aplasticbag are offering a great 30% of all printed carriers while the antipodean packaging company QisPackaging are offering 5% off all online sales. Wherever your business is located don't forget to get your Christmas polythene bags in stock; there's nothing worse than running out of stock at the busiest time of year.
Plastic to oil machine
Read the full article on Our World 2.0
We found a very interesting article on Our World 2.0 telling the story of a Japanese company called Blest which have developed one of the smallest and safest plastic-to-oil conversion machines out on the market today. It's founder and CEO, Akinori Ito is passionate about using this machine to change the way people around the world think about their plastic rubbish. From solving our landfill and rubbish disposal issues to reducing our oil dependency on the Middle East, his machine may one day be in every household across Japan.
When the article was re-published, just over six months ago, the video brief about the invention of the plastic-to-oil converting machine had got a viral boost and had exceeded 115,000 views on YouTube, today is has almost 2 million hits.
As stated on the article this is evidence that concern over "the plastic problem" is certainly not going away.
While holding up a bag of rubbish, Akinori Ito states, "It's a waste to throw away, isn't it? This is a treasure."
Early Christmas for mailing bags and postal packaging retailers?
With some big retail names already preparing their Christmas displays it's not just discount packaging sites like www.discountgreetingscardbags.co.uk and www.greetingscardbags.co.uk that are receiving record traffic.
High street shops had a famously bad run up to Christmas last year but online sales for the Yuletide period stood at a record high. While the Bank of England has announced an expected slowing in recovery-rates, traffic to sites like mailingbags.co.uk and www.discountmailingbags.co.uk are booming. The reason is clear, online shopping is growing, shopping sites need to deliver, and cheap but reliable courier bags and postal bags are as key to each sale as the checkout button. Your local Postie looks set to really deserve that Christmas tip this year!
New packaging website wows customers
A total revamp of a well known packaging website is proving a massive hit both with trade and non-trade shoppers. Polybags is a brand name long associated with innovation; the company was founded in 1968, their website was one of the first e-commerce shops to go online (way back in 1999) and alongside their more traditional range of polythene bags they famously introduced a range of *truly* environmentally-friendly biodegradable bags made from potato-starch rather than the 'lip-service' degradable bags which may actually be more harmful to the environment offered by most manufacturers. Their latest innovation has won not only acclaim from customers and industry-insiders, but has attracted a lot of applause from the world of IT too, and fans of the colour pink everywhere. Sandy Badger, a spokesperson for Mangolab, designers of the site, says the success is down to a genuine desire to help the shopper: "we've made everything as easy as possible for the customer, no matter how hard it was for us". Jon Davies, a director of Polybags added "We've always offered great prices and a great service but what we wanted was a website that was built on that, and we wanted it big, bold, distinctive ...and pink!". (more...)
Coca-Cola collects six tonnes of packaging at music festival
Coca-Cola has continued its promotion of packaging recycling by collecting more than six tonnes of packaging at last weekend's Sonisphere music festival.
Coca-Cola Enterprises is looking to increase the recovery of drinks packaging in public places introducing schemes at a number of festivals this summer, including the Isle of Wight festival, V Festival and last weekend's Sonisphere at Knebworth.
Over the three-day festival, plus two days for setting up at cleaning up afterwards, Coca-Cola collected five tonnes of cans, 600kg of bottles and 450kg of lids that will all be recycled.
Reference: Simeon Goldstein - PackagingNews
New metal challenge as Faerch Plast targets pet food market
Plastic packaging specialist Faerch Plast has launched a range of products for pet foods, that it claims are a low cost environmental alternative to tins.
The containers are produced from Ampet, an ambient polyethylene material developed by Faerch Plast for the packaging of ambient products. According to the manufacturer the material is lightweight and doesn't taint the taste of the food.
"The pet food market is an ideal target for us," said Faerch Plast chief executive Lars Gade Hansen. "Ampet is an environmentally friendly alternative, which offers the possibility of completely new and innovative designs."
Reference: Philip Chadwick - PackagingNews
Ratbags
Yet more packaging knowledge on PackagingKnowledge. Ratbags gives an interesting take and often wry glance at industry issues from the perspective of our mystery industry-insider.
First UK Plastic Bags directory launched
The first dedicated online web directory for plastic bags manufacturers and packaging suppliers has been launched for the UK market. The website www.Plasticbags.uk.com aims to list the major suppliers for all main packaging categories including polythene bags, carrier bags, mailing bags and bubble bags. The site also lists manufacturers who provide biodegradable bags and environmentally friendly alternative products. The aim of the directory is to provide a one stop-shop for consumers wishing to buy packaging products. All sites are reviewed by an editorial team and visitors to ensure quality listinsg and suppliers can add their sites freely by adding a link back to the directory on their listed pages.
Bioplastics have a small but growing market
For Dennis McGrew, chief executive of NatureWorks, the high price of crude oil and natural gas is not unwelcome news.
NatureWorks, formerly Cargill Dow, produces a plastic made from plant stalk, not fossil fuel. McGrew, a former plastics executive at Dow Chemical, says that as prices for fossil fuels soar and as the environment becomes an ever larger concern, ecofriendly plastics are becoming increasingly competitive, though they still remain a niche market.
That bioplastics are trending upward is clear. In the past month, a number of large chemical concerns have increased their commitment to market segment, including Braskem, the largest Brazilian petrochemical group, and Dow Chemical. In September, Plantic Technologies of Australia announced that DuPont would market its starch-based resins and sheet plastics in North America, a new market for a company previously limited to selling in Europe and Australia.
Investors looking for an early upside in this emerging market have their work cut out for them, as the near-term profit potential is uncertain.
"I think what you are seeing is a more pull-driven event, where a lot of different companies in materials and packaging are looking to green up their own operations using alternatives to hydrocarbon plastic materials - hence the pull on the Dows and DuPonts of the world," said Ben Johnson, lead chemistry industry analyst for Morningstar, the equity research company.
Robert von Goeben exemplifies that market pull. Early next year, von Goeben, who went from the world of venture capitalism to become a toymaker in San Francisco, is scheduled to launch Green Toys, a line of plastic toys including a 17-piece tea set that would sell for upwards of $20, made from bio-based renewable plastics.
Though he admits that bioplastics are a "challenging technology" in that their quality is not always consistent, von Goeben sees a pull in the consumer market for plastic goods, toys included, that do not wreak havoc on the environment. He said his risks were reduced because he was able to step into an established product category.
"We don't have to convince people to buy a tea set," he said. "When you can apply new technology to existing demand - or in our business, an existing play pattern - that's where you have a win."
To date, Johnson at Morningstar said he had found no conclusive evidence in the financial data of the companies he tracked to suggest that bioplastics was making or losing them money. "In terms of scale, this is not a very large commercial activity for the chemical companies," he said.
For newly public bioplastic companies like Cereplast of the United States, which will supply von Goeben, the stakes are much higher. Cereplast and Plantic, both of which went public in the past 12 months and sell biodegradable starch-based resins, have no choice but to run headlong into the market.
It is a tall order. As Johnson noted, there are currently a lot of "little niches" within the bioplastics arena filled with companies pushing intermediary polymer products that "are the same in spirit and may even be derived from the same source."
Potential investors will want to familiarize themselves with the competing technologies as well as their environmental impact. Despite what the marketers imply, bioplastics are not an environmental panacea.
While bioplastics afford the opportunity for less dependence on fossil fuels and sometimes lower emissions of carbon dioxide, they typically need exposure to some form of industrial composting to degrade.
Steve Mojo, founder of Biodegradable Products Institute, a New York-based company that promotes the use and recycling of biodegradable polymeric materials through composting, pointed out that a cup made from cornstarch acts no differently than one made from petroleum when buried beneath the surface of a landfill: Without air and heat, it stays intact.
To the investor eager to own stakes in companies making plastics that are compostable as well as petroleum-free, Mojo suggested digging into company information. The American Society for Testing and Materials Specifications has been approving bioplastic products for composting in the U.S. market since 1999.
When oil prices hit $40 a barrel, NatureWorks found that its pricing could be competitive with polyethylene terephthalate plastics. Its polymers remain 10 percent to 15 percent more expensive than polystyrene or polyvinyl chloride plastics, according to a company spokeswoman, Mary Rosenthal. NatureWorks contends that its polymers take 68 percent less fuel to produce than conventional plastics.
NatureWorks, which has expanded its production capacity 35 times since 1999, is on track to generate more than 150,000 tons of its polymers by the end of this year, the bulk of which would be spread across some 45,000 retail shelves worldwide, from Marks & Spencer in England to E-Mart in South Korea.
Sony is using polymers by NatureWorks for Walkman casings; Wal-Mart uses them to produce packaging worldwide. The French retailer Carrefour sells nonwoven commercial products using its corn-based polymer fibers.
The Japanese chemical company Teijin bought a 50 percent stake last month in NatureWorks, McGrew said, with the express intent of expanding its global production capacities.
Based on developments like these and data collected from its 75 members, the 14-year-old trade group European Bioplastics recently projected that annual bioplastic production capacity - biodegradable as well as non-biodegradable - would more than triple to 1.5 million tons in 2011. By comparison, in 2006 the U.S. plastics industry produced an estimated 57 million tons of conventional plastic resins like polystyrene and polyethylene, according to the American Chemistry Council.
Sabine Arras, spokeswoman for European Bioplastics, which is based in Berlin, said the industry was currently, "a sellers' market with only a handful of producers" of plastics made from renewable raw materials.
The technology for bioplastics has been around labouratories for well over two decades, though it continues to develop through the efforts of companies like Metabolix, a publicly traded company that is building a plant with its partner, Archer Daniels Midland, to open next year. Its plastics can be made from dedicated crop plants like switchgrass, as opposed to high-demand feedstock crops like corn. There are even hybrids. BASF recently began selling a renewable plastic whose contents are 45 percent from NatureWorks and the rest its own petrochemical-based polymer.
For all the challenges that the bioplastics industry faces, attracting customers does not seem to be one. For example, two brothers, Joel and Duncan Gott, own Taylor's Refresher, a three-restaurant chain in the San Francisco area that attracts thousands of tourists on a single weekend day. After watching the restaurant's garbage cans overflow with plastic cups and utensils, the brothers decided to experiment with bioplastics - from cups and straws to the clear plastic bags that line their garbage cans.
It has been a costly proposition. The garbage bags alone cost about a $1 each - almost 10 times the price of the petroleum-based ones the restaurant used before. Moreover, the quality of the bioplastic products is inconsistent - cups sometimes arrive warped, so the lids will not fit properly. Nevertheless, Joel Gott said he and his brother felt like they were on the right path.
"I fully expect that the producers we're dealing with today may be different from the ones we buy from tomorrow," he said. "Still, we're not buying petroleum, and our plastic cups can be sent to the garbage dump and composted instead of sit in the landfill."
Reference:Hearld Tribune International - www.iht.com
Toyota Auto Body to Show 'World's 1st' Electric Car Using Bio-plastics
Toyota Auto Body Co. Ltd. has announced it will present four concept cars at the 40th Tokyo Motor Show. The concept cars are the "VOXY Bi-TREK," "Mobile Trimmer," "Trans-Pit" and "COMS BP."
The COMS BP is a small electric vehicle that uses bio plastics derived from plants for some of its body parts, including the hood, pillars and roof. This will be the COMS BP's world premiere.
The VOXY Bi-TREK is based on the "TRANS-X" 5-seater model of Toyota "VOXY" van and combines a motor-driven second row seat and an interior cargo cover with it. This van can be arranged into four modes, including one with the rear row seats turned around to use the rear space as a living room, for example, said the company.
The Mobile Trimmer is a mobile pet trimmer shop model based on Toyota "HIACE Super Long." Targeting pets such as cats and dogs, the van is equipped with facilities for trimming and shampooing.
The Trans-Pit is Toyota "HIACE Wide Super GL" equipped with a power lift for loading and unloading of a motorcycle and a functionally designed instrument panel.
Reference:www.techon.nikkeibp.co.jp/english/NEWS_EN/20071012/140577/
Green Plastics Find Cautious Market
Target offers shoppers an unusual message about its gift cards at some stores, advising that they are biodegradable. "Just make sure you spend them first," the displays conclude.
This isn't just a marketing gimmick. Plastics made from corn and other plants are carving a tiny niche from the market for conventional petroleum-based plastics and being touted as green alternatives for everything from bulk food containers to lipstick tubes and clothing fiber - as well as gift cards.
So-called "bioplastics" offer the world a way to wean itself off oil, and most biodegrade to varying degrees. But their makers' green argument is complex, and environmentalists are cautious in their support.
Manufacturing bioplastics produces carbon dioxide, which contributes to global warming. The materials are made from crops - corn, switchgrass, sugar cane, even sweet potatoes - that require land and water to grow. Some sound alarms because genetically modified organisms are used to spur the fermentation that creates them. And recycling them presents still other pitfalls.
They also can cost three times more than conventional plastics, which gives businesses pause about adopting them. Until bioplastics expand beyond their current tiny fraction of the overall plastics market, the road to popularity is expected to be rough.
"It's almost a chicken-and-egg scenario," said David Cornell of the Association of Postconsumer Plastic Recyclers. "It might someday reach that critical mass, but it has to happen very quickly, because in the meantime it can be a nuisance for us."
Bioplastics' main benefit would be to reduce from 10 percent the share of U.S. petroleum consumption that goes into plastic. The types that are biodegradable also could help compensate for the country's slow progress in recycling - only about 6 percent of plastic made in the U.S. was recycled in 2005, according to the U.S. Environmental Protection Agency.
Bioplastics also lack toxins like polyvinyl chloride that have raised health concerns and led California Gov. Arnold Schwarzenegger this month to sign legislation banning chemicals called phthalates from toys and baby products.
"This is a promising new technology that faces some challenges," said Mike Schade of the Center for Health, Environment & Justice, a Falls Church, Va.-based nonprofit. "But we don't view them as insurmountable, if the industry is willing to face them head-on."
The market's newest entrant is Mirel, from Cambridge-based Metabolix Inc. It more easily biodegrades than rival materials and, unlike others, can break down in a backyard compost bin. Its first consumer application came in July when Target Corp. began using it in gift cards at 129 stores. Metabolix is talking with potential clients about dozens more applications for Mirel, from razor blade handles to a coating for disposable coffee cups.
Agricultural processor Archer Daniels Midland Co. provides corn feedstock for making Mirel, which requires genetically engineered bacteria to aid in fermentation.
The most widely used bioplastic, NatureWorks - a product of a subsidiary of Minnesota-based Cargill Inc. - also is corn-based and biodegradable. It is made without genetically modified bacteria. Some of the corn that goes into it is modified, raising environmental concerns on the sourcing end, but the company notes that protein from the corn is destroyed in processing. NatureWorks already is used in dozens of products, including water bottles - an application unsuited to Mirel, which isn't transparent.
Other bioplastics that biodegrade to some degree include Ecoflex, from German chemical company BASF AG; Mater-Bi, from Italy's Novamont SPA; and Cereplast, from a Hawthorne, Calif.-based company by the same name. And two major conventional plastics makers - DuPont Co. and Brazilian chemical company Braskem SA - make recyclable bioplastic that isn't biodegradable, the first from corn and the second from sugar cane.
No figures are available on overall bioplastics production, but bioplastics makers acknowledge the products occupy a tiny niche in the global plastics market, which totals $250 billion and produces 360 billion pounds a year. By comparison, the 300 million pound capacity of NatureWorks' Nebraska production plant is less than one-tenth of 1 percent of the market total.
For most biodegradable bioplastics, including NatureWorks, an industrial compost plant is recommended - facilities that are few and far between. The products are stable in places where microbes and moisture are minimal, as on a kitchen shelf. Metabolix says Mirel will decompose in a backyard compost within two months and about twice as slowly in soil, rivers, lakes or the ocean. But very few Americans compost, and most who do try not to include even paper products, let alone unfamiliar bioplastics.
"There's a lot more to it than saying it's scientifically and technologically possible to compost these materials," said Betty McLaughlin of the Container Recycling Institute, a nonprofit encouraging greater materials recovery and recycling.
And, just as different types of petroleum-base plastic can't be mixed in recycling, bioplastics should not be mixed with any conventional plastic because even tiny quantities can irreparably contaminate some melted petroleum-based plastics that have higher melting points, Cornell said.
"The sustainability concept is taking hold broadly, including in the corporate sector," said McLaughlin. "But these materials face a long road gaining acceptance."
A major bump on that road will be their cost. But, in another chicken-and-egg paradox, growing the market for bioplastics is key to bringing down their price, industry leaders said. NatureWorks says its production costs are just 10 percent to 20 percent above those of conventional plastics. Companies buying Mirel pay about $2.50 a pound, compared with 70 cents to 90 cents for petroleum-based resin, although the price difference is expected to shrink as quantities grow and oil prices rise.
Tamara Nameroff, acting director of the American Chemical Society's Green Chemistry Institute, said being as good as the product it replaces is not good enough for any green product, "even if you've proved you can make it environmentally friendly."
"You have to show a cost advantage to what it's replacing," she said. "The idea that people just want to purchase environmentally friendly products has been demonstrated in some markets, but not universally."
Though most consumers lack the patience to sort out all the arguments, environmental friendliness can sell. Ralph DiMatteo, 48, of Painesville Township, Ohio, said after learning Sam's Club gift cards are made of NatureWorks plastic that he would buy them as holiday gifts.
"I don't spend a lot of time researching these kinds of things, but if something is presented to me properly to show how my effort can make a difference for the environment, I'm willing to pay a couple extra cents," DiMatteo said.
For now, Metabolix is banking on that kind of attitude, said co-founder and chief scientific officer Oliver Peoples.
"We believe that there is a segment of the population that is willing to pay to basically feel better about using plastics," Peoples said. "And if a company decided it wanted to go in that direction of charging $2.03 for a cup of coffee rather than $2, our view is that we're adding something to their brand."
Reference:www.sfgate.com/cgi-bin/article.cgi?f=/n/a/2007/10/21/financial/f105016D23.DTL&hw=jewell+plast
Green Plastics - Will they Grow?
The advertising departments love them. Plastics made from corn, or sugar, or just about anything else that sounds "natural." Use them in your packaging, they tell their customers, and the consumers will see you as a White Knight, saving them from the planetary destruction wrought by the Other Companies (competition) who are motivated, of course, by power and greed (buzz-words these days) rather than the conservation of the Planet.
It sounds like hype, and it is, but it works. It trades on the anxieties of a public constantly bombarded with press on global warming, food recalls, and the more ordinary corporate excesses. The Iraq war is psychologically connected with the higher gas and oil prices, which are connected to higher prices for everything else, and plastics are connected to oil as their raw material, so anything we can do to make plastics from anything else, especially if it sounds non-toxic, is preferred.
It's technical and economic baloney, but people eat a lot of baloney if it tastes good. The raw material for plastics is oil (and natural gas), to be sure, but in the form of energy those are the raw materials for paper, glass, metals, fertilizers, and just about anything else, too. As for toxicity, we have lots of good non-toxic plastics with years and years of safety record, even left alone by the antiplastics folk, but now there is the feeling that if it comes from a plant it's safer. Crude oil comes from plants, too, but that doesn't matter.
Bottom line?
The bio-based plastics, degradable, compostable or just plain permanent, as well as the conventional plastics with degradation-promoting additives, will find their niches, especially in food packaging and other consumer goods, where their image can be used to sell them. They will not get far in large-volume markets like grocery bags (despite California's blatantly unscientific and inconvenient anti-bag laws), because of the sheer weight of the economic differential.
We are seeing a lot of bio-plastic press already, in advance of the gigantic K-07 Plastics Exhibition, and we'll see more as the bio-resinmakers get their prices down to competitive levels. (It helped that the prices of all other plastics have risen so much; all the bio people had to do was stand still.) We even see additives offered that strengthen these materials (notably impact modifiers for PLA) and thus overcome a competitive disadvantage vs PET.
But PET isn't standing still either, and is fighting back. We just saw an ad for a product in a "green PET package," which meant that (a) it was made with at least 50% recycle, and (b) it was processed with renewable energy! This isn't explained further, but I doubt that the extruders and molders are being run by solar or wind power. More likely, they are near a hydro-electric source. No matter, what's important is that it sounds green in terms the consumer can digest (recycle, renewable).
Keep tuned. And remember that the best way to save energy is not to buy the product at all
Reference:www.omnexus.com
Defra seeks assessment of packaging's impact on environment
Focus on biodegradable and degradable packaging.
20 September 2007 ' The environmental impact of biodegradable and degradable packaging is seen as a key issue for the UK 's Department for Environment, Food and Rural Affairs (Defra) and its implementation of the Government's waste strategy.
The news follows a warning from the Waste and Resources Action Programme (Wrap) that bioplastics need to be introduced with care by retailers and brand owners. (See PRW.com 12 September 2007 ).
Defra has published plans for a waste and resources evidence programme, which it says will help implement the Government's Waste Strategy for England 2007, published in May of this year.
The programme, the second of its kind, has been compiled by stakeholders to ensure the policies are 'evidence-based, not evidence-backed,' says Defra. The first programme, set up in 2004, generated over 80 projects and had a budget of up to '5m a year.
The research topics listed by Defra in 'The Waste and Resources Evidence Strategy 2007-2011' include: what are the environmental impacts of biodegradable and degradable packaging; what collection methods lead to high quality recyclates, and whether high collection costs are offset by environmental benefits; and how to best measure the carbon impacts of waste prevention and management.
Defra says its research and evidence projects are commissioned through open competitions on the department's website.
The nature of the projects will remain flexible, according to the needs of its waste policy makers, says Defra.
The Waste and Resources Evidence Strategy 2007-2011 can be found at: www.defra.gov.uk/environment/waste/wip/research/index.htm
Reference:http://www.prw.com
Bioplastics with PLA based on sugar beet and sugarcane residues
An Italian biotech start-up called Bio-On is entering the bioplastics market with a process that produces polylactic acid (PLA) based plastics from sugar beet and sugarcane residues with a claimed efficiency of 95% : waste streams become valuable resources that can be converted almost in their entirety in a useful product. Sugar beet pulp, one of the prime feedstocks, is usually used as low value animal feed or disposed of at additional cost. Likewise, bagasse and mollases from sugarcane have a relatively low value and are abundantly available.
PLA based bioplastics are currently produced almost exclusively from corn and grain starch. But given that prices for these feedstock keep rising because of their use in the production of ethanol, the utilization of new raw materials becomes an attractive proposal. The production of sugar crops, on the contrary, is outstripping demand. Both Brazil and India delivered record crops, and sugar prices have declined in the EU.
The production process would reduce energy costs and as it is based on a multi-feedstock strategy, costs for raw materials would be substantially lower than those for traditional PLA production. A first range of products to be developed by Bio-On are a range of biodegradable plastics with natural flame retardants to be used for automotive applications:
The planned location of the production plant is quite significant: 'Plastic Valley' in Bologna, with output of 10,000 tons.
Bioplastics face a bright future in Italy. This year a series of laws and policies came into effect that aim to phase out the use of petroleum based plastic bags and other products entirely by 2010.
Reference:www.plastemart.com
Wrap to clear up consumer confusion over 'green' packaging
The Waste and Resources Action Programme (Wrap) wants to develop standards to aid the processing of "green" plastics packaging in the waste stream.
Wrap said that consistent "branding" of products using these materials would help consumers separate them, after it found that people were confused about the wide range of green materials on offer.
It also wants to develop guidelines for composting, both in the home and for collected waste, and to identify technologies for separating polymers of different origins and carry out life-cycle analyses where appropriate.
Wrap hopes to publish research into the environmental benefits of biopolymers compared with conventional plastics and recycled content plastic packaging later this year.
Executive director Phillip Ward said compostable packaging and biopolymers had "great potential", but it was "vital" to introduce them with the correct infrastructure so they could be properly disposed of.
Last year, Wrap surveyed more than 400 people across the UK and found that 52% had heard of biodegradable packaging, compared with 15% for compostable.
A quarter of those surveyed said they would recycle "compostable" packaging, compared with 44% who would put in the normal waste bin. Less than a fifth would compost it at home.
Wrap has also published a position statement on biopolymers to clarify definitions of some of the terms used to describe packaging materials and factors to consider regarding disposal and environmental impact.
Reference:www.packagingnews.co.uk
Plantic sales volumes rocket 90% following packaging drive
Plantic Technologies, the Australian developer of plastics made from renewable resources, has said sales volumes rose by 90% in the first half of 2006 as it made inroads in the packaging market.
The firm, which has developed technology to make polymers based on high-amylose corn starch, said today (4 September) that its packaging materials had attracted a number of active customers, including Marks & Spencer.
Brand owner evaluation of its first flexible packaging films also started in the first six months of the year, and Plantic has appointed a European manager based in Frankfurt to drive further growth.
The firm, which raised '20m when it floated on the Alternative Investment Market in May, said a "significant reduction" in its government funding had caused revenue to fall 11% from '486,000 (AUS$1.19m) to '434,000 for the six months to 30 June.
Its loss before tax and finance costs increased by almost a third, to '1.62m, due to higher research and development spending.
However, product revenue grew by almost a third to '317,000 as it changed its strategy in Australia from selling finished packaging to selling materials to third-party packaging converters.
Plantic still has '18.8m in cash reserves. Its share price rose by more than 4% this morning to 68p following the results. However, it has been in gradual decline since it peaked at 82p in late May.
Reference:www.packagingnews.co.uk
CSM new offering will 'significantly' boost biodegradable plastics industry
AMSTERDAM (Thomson Financial) - CSM NV said its unit PURAC will begin to produce lactides, an essential ingredient for the production of biodegradable plastics.
The announcement represents one of the first times that biodegradable plastics will be able to be produced on an economical, industrial scale, according to the company, meaning a 'significant' boost for the development of the industry.
The raw material for biodegradable plastics, Poly-Lactic Acid (PLA), is made from agricultural products such as corn, sugar beet, tapioca and sugar cane.
Companies will be able to produce biodegradable plastics that can withstand temperatures of at least 175 degrees Celsius using the new products being produced by CSM, according to the company.
Bioplastics are used in, for example, hot-fill bottles, microwave trays, temperature-resistant fibres, electronics and automotive parts.
Arno van de Ven, vice-president chemicals and pharma at PURAC, says: 'Market growth has been hampered by the availability of economically achievable production technology. By using lactides as a monomer for PLA production, PURAC bridges the technology gap that currently restricts the plastics industry to accelerate the PLA market growth.
'The Lactide technology will reduce costs and investments for the bio-plastics industry and significantly contribute to the growth of the PLA market.'
Reference:http://www.forbes.com/markets/feeds/afx/2007/08/15/afx4020913.html
Pira to roll out permeability testing scheme for packaging
Pira is introducing a new service for testing oxygen and moisture vapour permeability equipment for packs.
The scheme will initially be aimed at testing permeability through plastic drinks bottles to allow comparison between different testing apparatus and measuring techniques used by bottle manufacturers.
Polyester sample bottles, manufactured within minutes of each other from the same machine, will be sent out by Pira to bottle manufacturers to run through their own testing machinery.
These results will then be returned to Pira during the following four months in time for the publication of a statistical analysis report on the Pira website.
Subscribers will receive a full data report and personalised trend charts. They will also be allotted a personalised labouratory number so they can compare the performance of their machinery against other subscribers.
Participants can choose to test for oxygen and/or moisture vapour permeability.
Pira has offered permeability testing and proficiency services for 30 years and already runs a similar scheme for testing flat film.
The new service will be launched in September and will run twice a year thereafter.
Reference:www.packagingnews.co.uk
More worked needed over recyclable packaging
Biodegradable food packaging is a viable option for the UK food industry, but only if proper recycling facilities are developed, according to a new handbook.
"Sustainable food packaging: biodegradable and compostable options", by Catherine Creaney, is designed to help plant managers understand sustainable food packaging, and how it may affect their businesses in future.
The food industry is increasingly using packaging made with starch, cellulose and polylactic acid (PLA), as opposed to the traditional petroleum polymer, because of consumer concern over packaging waste causing environmental damage.
This kind of biodegradable and compostable packaging was designed to be recycled and "cycle back into nature", Creaney said, helping to reduce landfill waste.
However, this kind of packaging is only environmentally friendly when industrially composted, Creaney added, and there are not many systems to do this available in the UK.
It then ends up in landfill, where it produces methane - a greenhouse gas that contributes to global warming.
Creaney also points out that the current use of sustainable packaging is limited, as its moisture barrier properties are inferior to its petroleum polymer counterparts.
"To date, there are a limited number of viable biodegradable and compostable food packaging material options that are commercially available," she said.
Over the past five years packaging suppliers have been introducing various forms of biodegradable materials in response to projections that consumers and recycling regulations will drive demand for environmentally-friendly packaging.
Mandates from giant supermarkets forcing suppliers to make the switch are also coming into effect.
However, some companies have indicated that switching to "green" resources is not always simple or profitable.
In May, UK-based Stanlico announced it would offload its biodegradable packaging arm and that it is abandoning its proprietary Greenseal technology for recyclable food trays.
Reference:www.foodproductiondaily.com
Recycling Plastics Reaches New Milestone in Japan
The Japanese have often been leaps and bounds ahead of the rest of us in finding innovative ways to reduce their energy consumption while boosting their use of renewable energy for everyday life. Having already helped popularize the "furoshiki" as an elegant and sustainable alternative to plastic, it comes as no surprise that they're at it again, this time developing a groundbreaking new process for recycling plastics.
A group of scientists have developed a process by which certain types of plastics can be broken down into their original chemical elements and then reused to make a new brand of high quality plastic. While most recycling methods rely on an approach that consists of melting and reforming plastic into a new, less pure type of plastic, the technique developed by Akio Kamimura and Shigehiro Yamamoto completely depolymerizes, or breaks down, the individual chains of molecules that make up polyamide plastics.
The scientists used an ionic liquid to change nylon-6 into captrolactam, its base component, that could then be reused over and over to synthesize new plastics.
"This is the first example of the use of ionic liquids for effective depolymerization of polymeric materials and will open a new field in ionic liquid chemistry as well as plastic recycling," said Kamimura and Yamamoto.
In addition to providing a more effective way to recycle plastics, their method is also much simpler to implement on a large scale since it eschews costly pressure chambers and wasteful energy inputs in favor of typical labouratory glassware. While this won't help us move towards a plastic-free future, it will at least eliminate a lot of the waste and energy consumption incurred through our current practices, which, in our minds, is a welcome development in itself.
Reference:http://www.treehugger.com/files/2007/06/recycling_plastic.php
Biopolymers developed to extend probiotic shelf life
A line of biopolymer ingredients under development will allow probiotics to be used in more foods than is presently possible.
Australian venture capitalists BioPacificVentures yesterday announced it was investing in EnCoate, a biopolymer company jointly owned by New Zealand firms AgResearch and Balance Agri-Nutrients.
EnCoate is developing a family of biopolymers to stabilise probiotic microbes so that they can survive for long periods without refrigeration. The aim is to develop biopolymers that can extend the shelf life of foods to up to two years at room temperature and humidity.
EnCoate claims to have developed a technology that can stabilise the microbes so that they can be used to enhance foods such as breakfast cereals, infant milk-powders and dog-biscuits.
The edible biopolymers can be added to the foods containing the probiotic ingredients.
Priobiotics are microbes that provide health benefits to consumers, but current technology limits the use to dairy products as refrigeration is required.
BioPacificVentures is funded by local and international investors with Nestl', the world's biggest food company, the largest investor.
Bridgit Hawkins, acting chief executive officer of EnCoate, said the purchase opens a potentially huge global market for probiotic ingredients.
"The market for EnCoate's probiotic ingredients will be global manufacturers and marketers of non-chilled foods that are seeking to differentiate their products in the perceptions of health-conscious consumers," she said.
The probiotic ingredient market is worth over $600m annually, and is growing at a rate of between 10 and 20 per annum, Hawkins said.
Ian Boddy, general manager of commercial services at AgResearch said the technology, when applied to probiotic ingredients, could double the market by enabling manufacturers to extend the probiotics category from refrigerated foods to non-refrigerated products.
"What's more, EnCoate has potential beyond extending the shelf life of probiotics, with the core technology behind EnCoate being the biopolymer, which has applications in agricultural biology, food, seed coatings, and vaccines," he said.
Andrew Kelly, executive director of BioPacificVentures, said the $6.3m investment and experience would drive the technology into numerous global markets.
"Probiotics, the 'healthy' bacteria, is one such market," he said. "Offering much more than capital, we believe our multinational food industry experience will be very beneficial to the company."
BioPacificVentures is one of Australasia's largest life science venture capital funds.
Reference:http://www.ap-foodtechnology.com/news/ng.asp?id=78524
GARBAGE GIVES GREEN POLYMER
Circuit boards from chicken feathers, plastic from soybean'scientists are turning over...
Carbon dioxide. Orange peels. Chicken feathers. Olive oil. Potato peels. E. coli bacteria. It is as if chemists have gone Dumpster diving in their hunt to make biodegradable, sustainable and renewable plastics. Most bioplastics are made from plants like corn, soy, sugar cane and switch grass, but scientists have recently turned to trash in an effort to make so-called green polymers, essentially plastics from garbage.
Geoff Coates, a chemist at Cornell, one of the leaders in the creation of green polymers, pointed to a golden brown square of plastic in a drying chamber. 'It kind of looks like focaccia baking, doesn't it?' Coates said. 'That's almost 50 percent carbon dioxide by weight.'
Coates' labouratories occupy almost the entire fifth floor of the Spencer T. Olin Laboratory at Cornell, and have a view not only of Cayuga Lake and the hills surrounding Cornell, but of a coal power plant that has served as a kind of inspiration. It was here that Coates discovered the catalyst needed to turn CO2 into a polymer.
With Scott Allen, a former graduate student, Coates has started a company called Novomer, which has partnered with several companies, including Kodak, on joint projects. Novomer has received money from the Department of Energy, New York state and the National Science Foundation. Coates imagines CO2 being diverted from factory emissions into an adjacent facility and turned into plastic.
The search for biocomposite materials dates from 1913, when a French and a British scientist filed for patents on soy-based plastic. 'There was intense competition between agricultural and petrochemical industries to win the market on polymers,' said Bernard Tao, professor of agricultural and biological engineering at Purdue.
Much of the early research on bioplastics was supported by Henry Ford, who believed strongly in the potential of the soybean. One famous 1941 photo shows Ford swinging an ax head into the rear of a car to demonstrate the strength of the soy-based biocomposite used to make the auto body. But soy quickly lost out to petrochemical plastics. 'In those days you had a lot more oil around, and you could dig it up all year round,' Tao said. 'You didn't have to wait until the growing season.'
And there was another problem: permeability. The soy plastic was not waterproof. 'Petroleum is biologically and relatively chemically inert, ' Tao explained. 'Most living systems require water.' Fossil fuels 'inexpensive, abundant and water resistant' quickly dominated the plastics market. Now, agriculture-based plastics are back in the running, and with the type of catalysts developed by Coates and others, a whole new array of polymers has become commercially viable.
Choosing carbon dioxide as a feedstock for a polymer was not an obvious choice. It was what Coates called 'a dead molecule'. 'CO2 has almost no reactivity,' he said, 'and that's why it's used in fire extinguishers.' So what made him choose carbon dioxide? 'It's abundant and cheap. We picked it for environmental and economic reasons, not for its reactivity.'
Richard Wool, a University of Delaware chemist, works with a material even less glamorous than orange peels: chicken feathers. Wool and his graduate students designed a composite made from soybeans and the down of chicken feathers. After seeing the composite, a Tyson Foods engineer approached Wool, offered him two billion pounds of chicken feathers, and an unlikely partnership was born. Despite the madcap premise, Professor Wool used the material to design a circuit board he said is a lighter, stronger, cheaper product with high-speed electronic properties. In short, the feathers allow extra air flow and do not expand like plastic when heated, so the hotter temperatures that come with higher speeds are less problematic.
Wool is also working with olive oil and other high-oleic oils to create rubber, paint and what he calls biocompatible adhesives; he envisions making bandages that would work more like skin. NONNY DE LA PENA(New York Times)
Reference: http://www.indianexpress.com/sunday/story/203394.html
Polymax
Leading manufacturer Polybags has a new film (developed in co-operation with the Polymer Centre at London Metropolitan University) branded PolyMax. Basically a low density polyethylene with a few additives and different extrusion techniques it is superior both in appearance and performance to traditional low density polythene.
It has a gloss and shine that makes it more attractive to customers but its great advantage is its strength. PolyMax, 75 micron thick (300 gauge) will perform as well as 125 micron (500 gauge) standard polythene film. Polybags Ltd holds in stock five standard sizes varying from 18 x 24" to 48 x 48" in two film thicknesses. The 150 gauge Hercules range has the performance of 250 gauge conventional film and the 300 gauge Goliath bags are as strong as 500 gauge standard bags.
Bags can be manufactured in any size so long as they are at least 450 mm wide. Their use has been particularly succesful in the transport of ice cubes where considerable cost savings have been enjoyed by users. Nevertheless, there has been a surprising reluctance on the part of some users to try the new film despite the extra cost per kilo of the material being completely outweighed by the ability to down gauge. Presumably on the principle that if is something is too good to be true it probably is. However, once persuaded to try the new material users are enthusiastic. So far there has been only one disadvantage. Because it is stiffer, it is more difficult to close the bags by tieing the material in a knot.
Rosas Increases the Shelf life of fresh food (from 21 days) to more than 21 weeks with saving 15% of plastic film on thermoformer
Society ROSAS, specialized in renovation of packaging machines, has developed a process to obtain packages with 100% oxygen free on thermoformer machinery. This process was built on two complementary patents.
The first patent allow them to inject fluids directly inside the middle of the sealing enclosure Instead of perforating the usual holes on both sides of the plastic film. As a result, this process reduces the width of the plastic film, both on the upper and the lower rolls, and save up to 15% of film ! (More technical details on WIPO web site.) See our schematic Patent 1.

The suppression of the perforating tools has another hygienic effect. On regular thermoformer machines, these tools cannot be totally cleansed, and since they usually made of steel they contribute to "pollute" the atmosphere inside the sealing enclosure.
This device is already in use and can be adapted on any kind of thermoformer machinery ! Among their customers using their machines and saving 15 % of plastic film we can mention:

http://www.isladelice.com/
http://www.eurovanille.com/
http://www.lactalis.fr/

As a extension of the first patent, the second one goes further allowing this time to introduce directly the product, solid or liquid, inside the tray sealing enclosure, under a perfect controlled atmosphere.

With a double chamber system, it is now possible to vacuum the 'tray sealing enclosure' in order to obtain 100 % of Oxygen free before introducing the product. Depending on the product, this result can even be guaranty going through 3 stages (most of the time the first one being enough):

Vacuum of the enclosure removing most of the oxygen.
Injection gas like CO2. (This Gas absorbs automatically the oxygen molecules left behind)
Second vacuum of the 'Loaded' CO2

At the same time, on a separate 'controlled atmosphere' chamber, the product is also vacuumed to remove the oxygen, but also exudates, and then introduced in the plastic tray completely free of oxygen.

It is well known that removing 100 % of oxygen from the food can extend shelf life of fresh foods. (Canadian labouratory Alimentech) The difficulty being usually to succeed in obtaining a perfect vacuum while the product is already inside the tray, and then holding oxygen. (Animation) See our schematic Patent 2.

With theses patents, the length of the shelf date depends now on the quality on the plastic film once thermoformed. With a good plastic film, it could be extended from 21 days to more than 21 weeks. Some plastics makers in US are already working on this issue.

Let's imagine that the actual plastic film can last only 8 or 10 weeks, (Keeping fresh products between -1 and + 3 ' Celsius). No more required freezer for transportation (Ship, lorry'), just cold rooms keeping a much better quality of the product for a long period of time. This is also changing completely the cost of long distance transportation and without all the troubles of defrosted food.

For industrials this process has also other big advantages like the suppression of clean room since the product is directly carried inside the plastic tray. For the same raison this process is also removing the laminar flow effect in case of liquid products.

This patent is a real 'revolution' changing completely our way of Packaging, Storing and Transporting Food and Products in the world. Rosas has developed a prototype proving the efficiency of this second patent, and is still looking for partners to use those two innovations.
Reference:http://www.rosas-france.com/index-3en.html
Why Did the Chicken Cross the Road? To Make... Plastic.
The race to develop renewable plastics is picking up steam and poultry feathers are among the materials under consideration.
Chickens are already highly productive critters, yielding fresh eggs, tender meat and piles of raw material for fertilizer. Now add renewable plastic to the list, thanks to a University of Delaware professor who managed to make a computer circuit board out of a composite of chicken feathers and soybean oil.
What started out six years ago as something of a joke'coming up with an entry for the Delaware state fair'turned into a serious project for chemical engineer Richard Wool and his graduate students. It turns out that the feathers'actually just the downy fibers removed from the quills'when processed and combined with soybean resin and made into plastic, have some pretty desirable properties. Wool and his students found the chicken-feather circuit board had better conductivity and heat resistance than conventional plastic. What's more, the composite's rate of thermal expansion matches that of the wires, reducing the risk of cracks and other problems when the two expansion rates are out of whack. And in case you're wondering, there's not even a hint of a fried chicken odor. "We leave all the smells behind," said Wool.
Recently, computer equipment companies have expressed interest in the special resin. And now Wool's Newark, Delaware-based company, Cara Plastics, is partnering with chemical company DynaChem to produce it. Intel is advising the company on the board's electronic performance, and manufacturer Hunter Technology is helping with the design. The chicken-feather plastic circuit boards could move into production as soon as a customer is found.
Need For Renewables
Unusual, sure, but chicken feathers are just one of many new sources that scientists and others are looking to as potential alternatives to petroleum, one of the key ingredients in plastics. The reasons are plenty. Among them, Americans generate some 29 million tons of plastic waste every year, according to the U.S. Environmental Protection Agency, raising the urgency of developing more biodegradable, or at least recyclable, materials. Green plastics, as they're called, are increasingly attractive as the world frets about global warming, which is caused in part by burning fossil fuels. "If you work with renewable materials, you are in fact coming up with a very good method of improving the atmosphere," Wool said.
That opportunity is no doubt one of the main reasons sustainable-plastic researchers and businesses seem to be in overdrive these days. Soybean, chicken feathers, corn and sugar cane are just a few of starting points for making green polymers. The latest news in the field comes from Brazil, where chemical giant Braskem said on June 21 it had developed the first polyethylene plastic'the kind used in items like plastic bags and drink bottles'made from ethanol derived from sugar cane. The company said in a statement it would start production in 2009 and could eventually be churning out some 200,000 tons of high-density polyethylene a year.
Typically, polyethylene is made from ethane, which usually comes from natural gas, a fossil fuel. The manufacturing process can be dirty, and it can take some 1,000 years for a polyethylene bag to break down (though many are recyclable).
Where Braskem stands apart is in its use of a renewable resource or feedstock, such as sugar cane, to make ethane, the company said. It's unclear how much cleaner, if at all, the manufacturing process will be. "We are keeping up with the desires of consumers who are asking for renewable products," said Braksmem spokesman Nelson Letaif, who noted the S? Paolo-based company's polyethylene will be recyclable but not biodegradable.
The U.S. Government is also in the green plastics race. On June 14, Department of Energy researchers said they had managed to derive high yields of hydroxymethylfurfural (HMF), a key building block for polymers like polyester and polyurethane, directly from glucose and fructose'two of the sugars most prevalent in nature. Scientists at the Pacific Northwest National Laboratory coaxed yields of HMF of 70 percent from glucose, found in plant starch and cellulose.
The scientists teased out a 90 percent yield from fructose, found in honey, many fruits and other sources, through the same special catalytic system using metal chlorides, an approach that results in significantly less impurities than traditional catalysts. "This is just the first step," said Z. Conrad Zhang, who led the research at the labouratory's Institute for Interfacial Catalysis in Richland, Washington. "There are a lot of things to be done before product development."
Cost Will Be A Barrier
Yet some plastics experts say green plastics won't truly take hold on a wide scale until their costs match those of old-fashioned petroleum-derived plastics. "The only thing that would be news in green plastics would be if someone feels they can do it economically," said Bob Davenport of SRI Consulting, a Menlo Park, California-based research group for the global chemical industry.
Until the price of oil becomes even more dear?or biotechnology helps plants have better yields of materials suitable for producing plastic?green plastics is likely to remain more of a boutique business. "It will be quite some time in the future before we get a huge market," he said. "It is a lengthy process to full commercialization, but one worth pursuing if there are sufficient advantages?and a number of companies think so."
For their part, the engineers at Braskem believe those days are already here. Company spokesman Letaif said its polyethylene will be "as competitive" as the traditional stuff. But Braskem also believes it may be able to charge a slight premium for the product as its clients will pay for the cachet of having renewable plastic.
Wool, the chicken apostle, said his computer circuit board is already competitive with the price of traditional circuit boards. Poultry powerhouse Tyson Foods has offered to give Wool 2 billion pounds of chicken feathers a year to continue the project. Another thumbs-up: the U.S. Department of Agriculture has awarded him $500,000 for his work, which also includes making bio-based polymers and composites from soybean oil and natural fibers. Cara Plastics, of which Wool is president and CEO, is working on making high-performance parts and structures like hurricane-resistant roofs.
We may be a few years out from slumbering on plant-starch foam mattresses. But the days of toting home chicken-feather circuit boards in sugarcane plastic bags may not be far off. That's, of course, assuming the manufacturing costs are in line with those for traditional plastic.
Reference:www.tjols.com
Sainsbury's is first customer for Amcor's NaturePlus Materbi heat-seal film
Sainsbury's has become the first retailer to use Amcor's NaturePlus Materbi heat-seal film for the vertical form, fill and seal (VFFS) packaging of fresh produce.
The first pack to hit the shelves is the 750g bag of Sainsury's SO Organic baby salad potatoes.
Previous grades of Materbi have required impulse seals and so have not been suitable for the majority of VFFS vegetable packing lines currently used by UK retail packers.
But Amcor claimed this latest version is the first heat-sealable and fully compostable film that can be used with a vertical filling machine.
SO Organic potato range: uses NaturePlus Materbi
The new product launch is part of Sainsbury's switch to the large-scale use of biodegradable packaging, which it first announced last September.
The 40-micron co-extruded material was produced at Amcor's extrusion site in Ilkeston and then printed at its fresh produce packaging centre in Ledbury.
Reference:www.packagingnews.co.uk
The PLA puzzle
Finding the most suitable final destination for packaging made from polylactic acid (PLA) can feel like trying to make your way out of a maze. A maze with more than one exit, and where the PLA players find it hard to agree on the right path to the finish.
Near to PLA's roots in the US Mid-West is Eric Lombardi, who runs a recycling operation in Colorado and is also president of the GrassRoots Recycling Network (GRRN). He and a loose alliance of recycling groups have thrown down a challenge to Cargill-owned NatureWorks, which manufactures PLA in Nebraska: provide a viable end-of-life solution for PLA containers – specifically bottles – or impose a moratorium on new applications until you have one.
Most PLA bottles are difficult to distinguish from PET or HDPE. Where more sophisticated equipment is used, PLA can be separated from other polymers. The real issue, says Lombardi, is the additional cost this imposes on sorting and recycling organisations. As a residue, these PLA bottles are likely to end up in landfill, without the benefit of recovery in any form.
Earlier this year, NatureWorks said it was in "active discussions" with environmental groups about PLA's final destination. The company also said it had not developed any new bottle applications for several months. In fact, as its latest newsletter informs us, Canadian brand +1 Water added one new application at the beginning of January.
But is this anything more than a local duel between NatureWorks, which Lombardi likes to call "the world's largest private corporation", and a disaffected materials recycling facility operator (and one which, by the way, could be thought to have vested commercial interests in traditional polymers)?
UK concerns
Well, it certainly looks a lot bigger than that, and the debate has come a lot closer to home. In March, a workshop run jointly by the Green Alliance, Wrap and the National Non-Foods Crop Centre highlighted similar concerns in the UK.
The consensus was that many applications of biodegradable and compostable polymers should be encouraged. But Green Alliance policy officer Hannah Hislop says: "There were concerns that bottles were not a desirable application for biodegradables, because they are indistinguishable from other polymers." Nor do the potential problems end there. When Peter Skelton of Wrap's retail innovation team outlines the pros and cons of PLA in particular, there are plenty of positives. These include high-clarity grades, and comparable cycle times and energy requirements to other polymers in converting operations.
But many performance limitations still remain. Skelton highlights the water vapour and oxygen transmission rates, its unsuitability for carbonates and the fact that it deforms at high temperatures.
At least one UK retailer has chosen not to give preference to PLA because of the risk of genetically modified maize content. This is despite the fact that, according to Wrap, only some 10% of consumers think this is an issue.
But even those retailers that have come out publicly in favour of PLA have no illusions about the difficulties it presents. Marks and Spencer, which uses the biopolymer for packs such as yoghurt pots, has admitted that PLA is technically very difficult. Its susceptibility to static and its brittleness are just two of the challenges it presents. And claims, such as the availability of effective peelable grades, are difficult to substantiate.
The question marks remaining over many of PLA's performance criteria are reasons why those with access to the polymerisation technology have not invested in more production, the retailer suggests.
It has been estimated that M&S currently uses only around 2,000 tonnes of PLA a year, despite the prominence given to the material in its hierarchy of preferences. But even in small volumes, availability of supply can be a thorny issue.
Zain Okhai, managing director of film converter Rockwell Solutions, admits that having to rely on limited global supplies, and most of those still from a single supplier, causes real problems. While some material is becoming available in the Far East, there is no likelihood of European supply in the near future. (See Growing PLA in the UK below.)
End-of-life issues
Wrap's long-awaited lifecycle analysis (LCA) for PLA was due for publication early in June this year. But an LCA carried out by Germany's Institute for Energy and Environmental Research, which was commissioned by NatureWorks itself and published last year, came up with some interesting observations. Much of what the report said was positive. But end-of-life issues again loomed large. "Composting should not be the standard treatment for PLA packaging waste as it cannot be expected to provide the environmental benefits achievable by chemical recycling and energy recovery," it said. Anaerobic digestion, it added, was another good option.
But wasn't compostability supposed to be a – if not the – key benefit of biodegradables such as PLA? It is understandable that oil-based polymers, which have been used for decades, should only recently have started to work hard at recovery options. But isn't it rather strange there should be so many concerns about the best final destination for materials so firmly rooted in the new millennium?
John Williams, technology transfer manager at the National Non-Food Crops Centre, is pragmatic about the level of final destination preparation done for PLA plastics. He says: "We are still in the early days with PLA. If you go back to the early 1950s when petrochemical plastics were coming on to the market then there would not have been an answer to questions about feed stock or waste management."
Recoup, an authority on waste management for traditional plastics, says there is still work to be done on the processing of eco-polymers. "If there were more PLA packs in the supply chain, would the composting facilities be prepared to deal with it?" asks Stuart Foster, project manager at Recoup.
The effectiveness of the traditional plastics recycling system, which deals with one in five bottles used, could be compromised by the increasing use of PLA in packaging, he warns: "As the use of bioplastics increases, we feel there should be more research done to understand the impact on existing recycling and composting systems. There's a need to make sure it doesn't jeopardise what's there already."
As the current system stands, says Foster, PLA bottles are "unlikely to be removed because of the cost to the reprocessors." At the moment, the amount of PLA in use remains at a safe level for reprocessors looking to reuse batches of plastic. But, says Foster: "If you speak to reprocessors, they really don't want PLA in the bottle stream. If the amount rises, they might have to look at rejecting whole batches of waste plastic."
GROWING PLA IN THE UK
As some converters of PLA manufactured by NatureWorks report shortfalls of supply, UK users might have to look elsewhere for their PLA.
Farmers in the UK aren't yet aware of the potential for their crops to be feedstock for polymers as well as feedstock for humans or animals, according to the National Union of Farmers. The Home Grown Cereals Authority (HGCA) has done more research into the potential packaging applications for UK-grown crops. Mairi Black, industrial uses product manager, says that the HGCA has been working with Green Light Products to develop a wheat-based alternative to polystyrene block packaging.
The success of their work shows that high-volume production of eco-friendly materials is possible in the UK. Green Light Packaging's product has taken one-third of the market for loosefill packaging since its design.
The HGCA also has an R&D contract with the Department of Trade and Industry's Technology Programme, led by Brunel University, into eco-composites based on renewable materials, due to be completed in December 2007.
Black says there isn't the same level of financial incentive to develop PLA production in the UK as there was in the US, where it was a good solution for excesses of cheap corn.
John Williams from the National Non-Food Crops Centre says that the UK public might have ethical concerns about using wheat or corn, that could be food, to produce packaging materials. But he says around 45% of crops produced in Europe already go in to non-food applications and that there is suitable waste produced from corn or wheat plants after the food parts have been removed: "The technology is coming along to produce products out of this waste. If you use the agricultural feedstock effectively then there should be enough in the supply chain to meet both food and other needs."
Williams' concerns about producing PLA in Europe regards the intellectual property rights. It is likely any producer keen to manufacture PLA in the UK would have to licence the technology from NatureWorks, says Williams. "My personal view is that this will change," he says. "Someone or other will find another way of doing it and then NatureWorks won't control the supply chain."
There are other eco-polymers already in production in the UK. Innovia supplies Nautreflex, a cellulose film, to the global market from its manufacturing site in Wigton, Cumbria. "PLA is the one people talk about, because it was the first on the commodity market to be produced in any reasonable volume," says Williams, but with products like NatureFlex already produced in large quantities from renewable resources in the UK, it may be time to look at alternative eco-polymers.
Reference:www.packagingnews.co.uk
What is Sustainable Packaging & How Green we are?
Sustainable packaging a definition:
Is beneficial, safe and healthy for individuals and communities throughout its life cycle;
Meets market criteria for performance and cost;
Is sourced, manufactured, transported and recycled using renewable energy;
Maximizes the use of renewable or recycled source materials;
Is manufactured using clean production technologies and best practices;
Is made from materials healthy in all probable end-of-life scenarios;
Is physically designed to optimize materials and energy; and
Is effectively recovered and utilized in biological and/or industrial cradle-to-cradle cycles.
How green are we?
In the groundbreaking survey of nearly 2,000 packaging suppliers and brand owners, Packaging Digest reveals just how knowledgeable the market is about sustainability in packaging and what companies are doing to achieve this goal.
Eighty percent of the respondents to our recent sustainability survey say they are at least somewhat familiar with what sustainability is, and more than half are already achieving sustainability goals through a variety of measures, most often in the use of recyclable materials and lightweighted packaging, as well as reduced energy use and greenhouse gas emissions.
Responses from materials suppliers/converters and equipment companies were virtually identical to those from brand owners and contract packagers, showing a very similar level of awareness and involvement. The only variances occurred between respondents who described themselves as "very" or "extremely" familiar with sustainability, as compared with those who claim to be "somewhat" or "not at all" familiar.
Packaging Digest's survey was sent electronically in early December, just a month after Wal-Mart announced its sustainability scorecard initiative. Corporate/general management and engineering/production each accounted for one-fifth of the respondents, while marketing, packaging design, purchasing and research and development each represented 10 to 13 percent. The remainder did not identify their job function
So how green are we? Thirty-two percent of survey respondents say they are either "very" or "extremely" familiar with the idea of sustainability (see the "tree chart" at right). Sixty-one percent believe that the emphasis on sustainable packaging has increased during the past year, while the remainder say it has stayed the same. However, that number changes for the "familiar" group previously identified—among them, 77 percent claim that the emphasis has increased.
Although Wal-Mart has made it abundantly clear that it considers sustainability to be a business economic issue, only 19 percent of our survey participants agree with that philosophy. Just a tad more than one-third of the respondents say they view sustainability as an environmental initiative; 46 percent claim that the economic and environmental importance weigh equally.
When making decisions about packaging, 21 percent of the participants say that sustainable design is a "very important factor," as compared to 8 percent who claim it is "not important." About one-third each voted for "somewhat important" and "only sometimes a factor (see the second "tree chart" on page 41)." Again, however, the importance factor is weighted more heavily among the "familiar" group, with 30 percent of those people voting for "very important" factor in making packaging decisions.
Not very many customers are asking for or requiring sustainable packaging. Only 9 percent of the survey participants say that more than 50 percent of their customers require sustainability; 37 percent say fewer than 10 percent of their customers ask for it. However, suppliers of equipment and materials are more likely to have customers who ask for sustainable packaging than do the end users.
The differences between suppliers and brand owners showed up also in the question about the importance of sustainability in designing, specifying or purchasing packaging equipment (see table at right, which shows responses of all survey participants, both suppliers and end users). Brand owners, for example, are more likely to want the equipment to meet market criteria for performance and cost (56 percent) than are suppliers (44 percent). Brand owners also say they want the equipment manufactured using clean production technologies and best practices (28 percent), compared to suppliers (21 percent).
Click here to view a larger image.
Packaging Digest's survey asked four open-ended questions, a tactic often avoided in most surveys because they tend to be ignored. Not here, however—each question netted at least 600 write-in responses, pointing out the importance of the topic to the survey's participants.
One question asked: "In your opinion, what is the greatest impediment to adapting sustainability on the packaging processes you currently work on?" The most common answer was cost, "that is, convincing suppliers to make the necessary changes to satisfy our requirements," explains one respondent. "If the consumers show that they care enough to select products for sustainability, or the government requires it, it will happen. Otherwise, this will not happen until sustainability is economically driven," writes another. And yet a third responds: "Lack of knowledge from the consumer is a problem. There is no push to go sustainable unless it's a plus for the consumer. For that reason, cheapest/fastest/prettiest to market is a priority."
Some respondents mention the lack of readily available materials, or long leadtimes on those materials. "There are leadtime delays due to the extra effort and extra costs involved. It does not seem like 'sustainability' is mainstream or readily accessible yet," says one person. Points out another: "The resin simply doesn't work in many applications, and until more sustainable resins are available—especially high-barrier resins—we cannot create a functional package." Many people complained that they have difficulty sourcing the materials, especially in the quantities they require, because production in many cases is not keeping up with demand. Others worry that the materials may not provide the level of protection their products require: "Making sure package performance isn't compromised, leading to higher damage levels," says one respondent.
Click here to view a larger image.
"By nature, our packaging is at a minimum to begin with, so therefore there is not a lot to work with. That being said, we are limited to our shrink films, and all investigating we have performed has yet to result in a usable alternative," explains an obviously frustrated participant.
Yet another impediment mentioned repeatedly in the open-ended question is a lack of knowledge on the part of the consumer. "The problem is end customer perception and big box store requirements and demands. I work for a big wine company where marketing feels that the glitz and glamour is what sells, and this is endorsed and even compounded by the big box and chain store world," says one person. Echoes another: "The customer does not perceive that it's a need."
But not just the consumer is being maligned. Says another, "Ignorance of corporate and upper management to the importance of packaging in general, and sustainability in particular," complains one respondent. "Management isn't interested in sustainable packaging, thinking it could be harmful to customers and not be worth the time to develop."
Another open-ended question asks survey participants what metrics, if any, are currently being used by their companies. Nearly half reported none at this time. Other responses, however, listed a variety of measures: source reduction; reduced emissions (greenhouse gases); water use; percentage of renewable materials; recycled content; life-cycle analysis; and the Wal-Mart scorecard. One person wrote: "We recently revamped the entire plant engineering and maintenance organization to implement a new culture of process engineering, although it's currently in the infant stage." Another person writes: "We are running near zero waste at our headquarters building, and we have several different ways of tracking it, which is done by our Sustainability Committee."
The survey also asked what tools or resources the respondents need to help reach their sustainability goals. "Credible definitions and expertise," writes one person, reflecting the sentiments of many. "What is now out there, I am highly skeptical of. There are lots of consultants out there, and extremely generic articles are being written and published which I wouldn't use for a Packaging 101 course."
Click here to view a larger image.
In addition, many of the people surveyed cited trade magazines as a good future means of disseminating credible information. At Packaging Digest, we're listening.
Reference:www.packagingdigest.com!
Plastic: Past, present and endangered future
When our oil runs out, we'll lose more than just petrol. So how will we make pens, PCs and iPods? Simon Usborne speaks to the bio-pioneers who are cultivating Plan B
When a Belgian chemist named Leo Hendrick Baekeland ended his diary entry for 11 July, 1907, with the words "I know this will be an important invention", he could not have dreamt of the extent to which his brainchild would shape modern life.
Having emigrated to the US with a chemistry degree, Baekeland had spent five years in a converted barn at his New York home experimenting with a resinous gunk - the by-product of a reaction between formaldehyde and phenol - and an oven he named "The Bakelizer". The result: a hard, light substance that could take on any shape.
A hundred years on, Bakelite, the world's first fully synthetic material, has spawned a plethora of plastics that have moulded our world. Look around you: your mobile phone; your computer; your credit card; even your contact lenses - they all rely on some variant of plastic, or "the material of a thousand uses", as Baekeland marketed his creation.
At his death in 1944, the US was producing 400,000 tons of plastic a year. Today, annual production worldwide has rocketed to 100 million tons - the equivalent of 60,000 two-litre drink bottles every second - and in the UK consumption is still rising by 4 per cent a year.
But as we increasingly rely on the polymer, plastic could not exist without one ingredient: oil. For every barrel of oil that goes into making plastic, another is required to fuel the process. In total, plastics account for seven million barrels of petroleum per day - that's 8 per cent of global supply. With reserves expected to last mere decades, the race is on to find an alternative.
The solution could lie in plastics made from raw ingredients found growing in fields. So-called bioplastics are not new. Celluloid, which is made from wood and cotton, was developed as an alternative to ivory in billiard balls in the 1850s. But, like other early renewable plastics, it lacked the versatility and viability of synthetic polymers; today, it is more often used to make shirt collar stiffeners and ping-pong balls.
Bioplastics made from crops such as maize or sugar cane have become more widespread, turning up in products such as biodegradable shopping bags and tomato trays, but many are expensive to produce, or melt at low temperatures.
That could change if an American bioscience company has its way. Last month, the Massachusetts research firm Metabolix announced plans to mass-produce a plastic made using only bacteria, sweetcorn and air. Jim Barber, the company's chief executive, says the biodegradable polymer, called Mirel, can handle boiling water and is the greenest plastic on the market.
"Mirel cuts by two-thirds the greenhouse gases released by the manufacture of petroleum-based plastics," he says. "And because it's not made using oil, we cut petroleum use by about 80 per cent."
But what's really clever about Mirel is the way it is "grown". Most modern bioplastics are manufactured by extracting starch from maize or other crops and fermenting it to produce an acid, which then undergoes a series of chemical treatments to create a plastic polymer.
The scientists at Metabolix have engineered microscopic bacteria to do all that work for them. They add sugar from the maize, as well as oxygen, and watch the microbes swell as tiny plastic particles form inside them. Using a secret process, the particles are then harvested to create the pellets that can be moulded into a range of products.
"Mirel has the physical properties to be a useful alternative to most traditional plastics," says Barber. "But initially we're focusing on disposable items, such as razors, plastic bags and packaging, which use so much plastic and just get thrown away."
In the UK, we bin nearly three million tons of plastic a year, more than half of which comes from packaging. And less than 10 per cent of that is recycled - the rest ends up in landfill, or strewn along beaches and roadsides, where it can remain for decades or even centuries.
Mirel is different. "It will break down in almost any environment, including soil, in industrial or domestic compost, or even in rivers and seas," says Barber.
Its green credentials are clear, but can Mirel and other renewable materials ever hope to satisfy our enormous appetite for plastic? Dr John Williams, a scientist at the UK's National Non-Food Crops Centre, says rapid growth in the past two years has given bioplastics great potential.
He says: "People often say to me, 'Look, there are millions of tons of polypropylene in the world - how the heck are you going to replace all that?' But let's go back to the 1940s when polypropylene was just a waste material - nobody could have imagined we would be producing it on such a huge scale today. I believe renewable plastics can go the same way."
Back in the US, Metabolix is starting small. The company is building a plant in the "Tall Corn State" of Iowa that will churn out Mirel at an annual rate of 50,000 tons - a fraction of the demand for plastics. But Metabolix scientists are on the verge of a breakthrough: using a process that sounds more like science fiction than fact, they plan to transfer the machinery used to produce Mirel from the stainless-steel vats of the processing plant into the leaves and stems of the plants themselves.
Rather than take the sugar from corn and add it to microbes in a fermenter, Metabolix will cultivate a grass already loaded with the bacteria. The modified microbes take some of the sugar produced by the plant every day via photosynthesis and transform it into natural plastic that grows inside the leaves and stems. This "plastic plant" can then be harvested and the polymer extracted for conversion into pellets.
Metabolix has already "farmed" plastic in trials using a plant called switchgrass, a prairie grass that grows naturally across swathes of North America. The company hopes to get the grass into the field in the next three or four years.
Barber says the key to producing large quantities of bioplastics is to combine plastic making with the manufacture of biofuels in multi-purpose refineries. Once the plastic is harvested from switchgrass, the rest of the plant - about 90 per cent of its biomass - can be used to produce ethanol fuel, or even burned to generate electricity.
And the process will not be restricted to climates where switchgrass thrives. A grass called miscanthus is already used in parts of Europe to produce biofuels, and could be engineered to make plastic at the same time. In warmer parts of the world, other crops such as sugar cane could do the job just as well.
"Using this method you really can look at natural plastic as an alternative to a substantial portion of petroleum-based polymers - I would say around half," says Barber.
On a global scale, that would equate to 50 million tons a year, and an increasingly vocal band of environmentalists is expressing concerns about the impact that will have on land. In Brazil, where ethanol derived from corn and other crops has replaced 40 per cent of the gas guzzled by cars, millions of acres of savannah and rainforest have been turned over to bio crops. Last week, a UN report warned that if not managed carefully, growing crops for biofuels can do more harm than good.
"It is an issue," says Barber. "But this year about 90 million acres of corn will be grown in the US, which is enough to meet current needs, and in the future there are substantial amounts of set-aside land that could take switchgrass and other crops."
John Williams admits the industry is still "dipping its toe in the water" but he is confident that bioplastics will soon catch up with their oil-based counterparts. "I can't see them being 50 per cent of the market 20 years from now, but it might be 20 per cent, and that was unthinkable only two years ago."
What would Baekeland, whose iron Bakelizer was at the cutting edge of technology 100 years ago, make of plastic farms and biorefineries? "I think he would have been really excited and intrigued," says Dr Susan Mossman, author of Early Plastics: Perspectives, 1850-1950, and curator of Plasticity, an exhibition which opens at the Science Museum this month. "Before he died he said that if he could lead his life again, he would do something for the good of mankind, so I think he'd be fascinated by the idea of plastics actually helping the environment."
Plasticity: 100 years of Making Plastics opens at the Science Museum on 22 May. www.sciencemuseum.org.uk
Materials of the future
Kenaf: A species of hibiscus, Kenaf is traditionally used to make rope and paper. Now companies are converting it into a high-performance, biodegradable plastic. In 2005, Toyota revealed its i-unit concept car, which has kenaf- reinforced panels. NEC has made a kenaf mobile phone and says the material could be used in computer hardware.


Curv: Plastics reinforced with carbon or glass are difficult to recycle because their composite materials often cannot be separated. Curv, developed at the University of Leeds, is reinforced by stretching fibres of its own polymer, which makes the reinforced product easy to melt down and reuse. It features in products including Samsonite suitcases and Nike shinpads.


Mater-Bi: Developed by Italian research firm Novamont, Mater-Bi was the world's first fully biodegradable and compostable plastic. Starch powder extracted from maize or vegetable oil is heated under pressure with natural additives to produce plastic granules, which are turned into products ranging from plastic bags to car tyres, coffee cups and toys for pets.


Zelfo: Using a method developed in Europe, Zelfo Australia produces lamps, bowls, and even electric guitars. Water and natural additives are mixed with the fibres of hemp, straw or even waste paper. The material then goes through a drying and casting process to produce a material its makers claim is stronger than stone.


Reference: http://news.independent.co.uk
EU funds nano packaging research
By Ahmed ElAmin
5/2/2007- UK supermarket chain Sainsbury's is part of an EU-funded project to develop biodegradable packaging using nanotechnology.
Over the past five years packaging suppliers have been introducing various forms of biodegradable packaging, based on projections that consumers and recycling regulations will drive demand for environmentally-friendly packaging. Supermarket chains, such as Wal-Mart, have also been driving the change throughout its suppliers.
The EU project, SustainPack, aims to create new environmentally-friendly fibre-based packaging to replace oil-based plastics. The fibres are obtained from natural, sustainable raw materials, such as wood.
They can then be modified using nanotechnology techniques to provide the needed qualities, said Chris Breen, a research from Sheffield Hallam University, one of the project partners.
"Developing sustainable packaging that can compete effectively with packaging derived from petrochemical-based polymers is extremely challenging," he said.
One of SustainPack's project goals is to increase the dry, moist, and wet strengths of fibre-based packaging materials, allowing the design of more cost-effective packaging by using less material.
Researchers have set a target of reducing material use by 30 per cent. At Sheffield Hallam work is underway on the design of nanoclay particles, which are expected to significantly improve the barrier properties and mechanical strength of the new biopolymer films and coatings.
"One of the more unusual modifiers that we are using to make the nanoclays more compatible with, and disperse throughout the biopolymer films, to effectively repel water molecules is a molecule called chitosan, which is derived from the shells of crustaceans, such as crabs and lobsters," said Breen.
SustainPack researchers said they are currently developing some sample packages, which they hope to demonstrate to some of the project's industrial partners, including Sainsbury's and Smurfit-Kappa.
The four year research programme has a budget of €36m, about half of which comes from an EU research programme.
The SustainPack project brings together a consortium of 35 participants from 13 countries, representing packaging research associations, academia and industry.
In 2002, EU countries generated about 66 million tonnes of packaging waste. In the UK, about 28 million tonnes of waste every year is landfilled, a figure which is expected to double over the next 20 years.
Smurfit-Kappa is one of Europe's largest manufacturers of packaging products.
Reference: http://www.cosmeticsdesign.com
Plastic grocery bags' convenience trumps environmental factor
Petroleum-based sacks like those used in Iowa are banned elsewhere, but big change is unlikely here.
Shoppers like their plastic grocery bags and still continue to choose them overwhelmingly over more environmentally friendly paper bags.
"Consumers like the reusability of plastic sacks and the convenience of being able to grab several at a time," said Fred Greiner, president of Boone-based Fareway Stores Inc., which has been using plastic grocery bags since 1988. The company's 93 stores use in excess of 1 million plastic bags a week.
But if a movement on the West Coast creeps its way to the Midwest, grocers will be looking for alternatives to the plastic bags. San Francisco has banned the use of petroleum-based grocery bags at larger supermarkets and drugstore chains. Officials in Los Angeles, Santa Cruz, Calif., and Austin, Texas, are considering similar bans.
Several foreign cities including Paris and nations including South Africa, Bangladesh and Taiwan also ban the bags or plan to.
The majority of bags used at Iowa grocery stores are made with petroleum products. And it looks as though it may stay that way for now.
"Groceries have to be bagged up. And the vast majority of bags used are plastic," said Jerry Fleagle, president of the Iowa Grocery Industry Association. "Most consumers prefer plastic."
Hy-Vee uses about 5.4 million plastic bags a week and fewer than 350,000 paper bags in its 220 stores in seven Midwestern states. The company has created incentives over the years to reduce reliance on plastic bags and encourage recycling, such as offering a 5-cent-a-bag refund for customers bringing in used plastic grocery bags and selling reasonably priced, reusable canvas shopping totes.
But the plastic bags almost always seem to win out.
"They are reusable and waterproof," Greiner said. And they cost less for stores to buy than paper, he said.
But along with taking a long time to break down in landfills, the bags often end up as debris, strewn across fields and clumped in ditches, he said.
Susan Sanford of Urbandale said she prefers paper grocery bags because she can collect her other recyclables in them. She would like to see some restrictions put on plastic bag usage in grocery stores, but doubts grocers will do it on their own.
"I would like to see it done voluntarily, but whatever is the cheapest route, that's what the grocery store is going to use," she said.
A more environmentally friendly plastic bag is being researched, but so far a usable product hasn't made its way to stores, said Larry Johnson, director of the Center for Crop Utilization Research at Iowa State University.
Several years ago, a cornstarch-based plastic was created for use in making grocery bags. The bags were not as strong as their petroleum counterparts and did not degrade fast enough in composts and landfills.
"They never met consumer expectations," Johnson said.
Scientists continue to work on other alternatives.
"Finding a polymer derived from a renewable source is being investigated, but it's not going to happen overnight," Johnson said. On top of that, consumers are not willing to pay very much for a green product, he said.
So while the world waits for a better plastic bag, stores will look for ways to better use the bags they have now, Fleagle said.
Some companies, like Hy-Vee, Wal-Mart and Fareway, provide large barrels at store entrances so shoppers can drop off used bags.
It's a successful program at the Hy-Vee on South 51st Street in West Des Moines. About 90 percent of the bags that leave the store are plastic, and at least some of them come back to the recycling bin, said store director Mark Luke.
"I have to empty the barrel every two or three days," Luke said. "I ship them to the warehouse where they recycle them."
Consumers also need to take a look at how they are using plastic bags, Fleagle said. They can be reused or recycled, he said.
Amy Horst, communications specialist with the Metro Waste Authority in Des Moines, said plastic shopping bags aren't currently included in curbside recycling services. Concerns about the weightless bags flying out of recycling bins or drifting around landfills have yet to be addressed, she said.
"We are actively looking at it," she said.
Reference: http://desmoinesregister.com
Ten Packaging To-Do's In 2007 - Packaging Tips
Well, we are into the New Year and everyone is making resolutions on how to improve in 2007. It's time to think about your product and it's packaging too. Just like we do with our mental, emotional and physical aspects of our lives, think about improving and updating your packaging. You want it to mesh with consumer wants and needs. Consumers are a moving target and what worked last year may not work in the years to come.
Here are 10 simple things you can do to ensure your product packaging is on target and delivers the right message to the right audience.
Take an honest look at your product packaging. Is it working to your product's best advantage? Are there changes that you have put off making due to lack of time or money? Implement a plan to review one product at a time or a family of products if they are interrelated. An important factor to consider when making any changes is the continuity of the brand. Don't change for change's sake. That only serves to alienate the customer.
Give your product packaging to an outsider to review. Ask someone who knows nothing about your product and your packaging to evaluate it. Ask for an honest opinion of what they like or don't like and ask what they think might be missing. Ask them to be objective and honest. Many times product developers get caught up in their own opinions and it's good to get grounded with an outside consumer perspective. NOTE: Be objective about negative opinions. Delve in to the actual reason someone may not like your packaging.
Go to at least five different retail outlets and look for comparable or competitive products and assess their shelf appeal. Is there a particular characteristic that appeals to you? It could be color shape, innovative design. Determine if you think their packaging is better than yours. What stood out in your mind about that particular package? NOTE: You don't want your product packaging to mimic the competition. INSIDERS TIP: Play dumb and ask another shopper to make a decision about which product they like best. Then ask them why they chose that package.
Step back from your product on the shelf at least five feet. Does your product stand out among the competition or is it awash in a sea of sameness? Is it difficult to distinguish one product from another? Is there a USP (unique selling proposition) that makes your product more interesting or more consumer friendly? Note: Many private label brands trade on brand recognition from the branded product. If your packaging goes that route, make sure you are not copying or infringing on someone else's design or trademarked product packaging.
Walk the isles out side your product category. Look for crossover innovations that can be utilized in your existing product. Look for new ways of dispensing a product such as the new Wishbone Salad Spritzer that moved out of the pourable bottle into a pump dispenser or Laughing Cow cheese that went from traditional foil wrapped individual packages into a squeeze bottle. An innovative concept that changes what people buy is what you are trying to capture.
Review trends and predictions for your industry. Is your product packaging inline with where the industry is going? Is your market moving in a new direction or are outside influences driving what is happening to product packaging? A good example is the current movement toward "green" product packaging. Are you so specialized that you may be alienating many potential market opportunities?
Read from cover to cover at least two industry publications. Pay special attention to marketing case studies or product makeovers. Look for new innovations or ideas that you can incorporate into your existing product packaging. Read the ads too. They always showcase the latest industry innovation.
Subscribe to the industry blogs, e-zines and newsletters relevant to your product. Don't subscribe ... read them. Pick one or two that you like or that provide pertinent information and discard the rest. There is such a thing as too much information that can either confuse you or make it impossible to make a decision because there is always a new and a better package out on the market.
Plan to attend at least one industry trade show. One of the best shows for innovation is INPEX', America's largest invention trade show. It is a unique exposition showcasing numerous inventions and new products available to license, manufacture or market. The 23rd show will be held June 6-9, 2007. If it's innovation you are looking for, plan to attend. If you are looking for packaging insights and innovation, please be sure to attend the Packaging Diva's presentation, "Packaging Your Invention To Sell," on the 7th.
Last but not least think about ways to improve your product packaging. Make it easier for the consumer to use, find, carry, store, open or find important information about your product. Some of the simplest innovations can revolutionize an industry though innovative product packaging. Over 12 years ago, Sargento introduced the resealable zipper closure on their cheese packaging. The rest is history.
Whether you can accomplish all ten tasks or just a few, the most important issue is that you decide to move forward one packaging step at a time. Let's face it. Consumers are a fickle bunch. It doesn't take much to turn them off. In fact, you only have 2.6 second to turn them on. That is how long you have to persuade them to buy your product and the only way to do that is through compelling packaging. Yes, your package is your number one salesperson and once you have lost the opportunity you may never get it back.
Need insights on packaging trends that can impact your business? Get the Packaging Diva on your team.
You have 2.6 seconds to persuade a consumer to pick your product up off the shelf. Thanks to the proliferation of products available at retail, you have to get their attention - and fast. If you want to make money, it's imperative that you fulfill the consumer's wants and needs. But, you have to get their attention first!
Understanding and cultivating the consumer is an ongoing task. Consumer preferences can change on a whim. When it comes to product packaging, it's important to understand the mindset behind consumers' decisions. Each year new trends move into the foreground. Yet, while some are here to stay others move on as quickly as the came into being. Some trends have great power and become mainstream across industries, ethnicities and generations… but which ones?
I know what the consumer wants. I've done the work for you. I have studied the market and I know what's hot and what's not. This valuable information is not available from anyone else. Get help by visiting Packaging University.
Reference:http://www.packaging.com
Amcor Flexibles - Exclusive Supplier of Peelable PLA for Fresh Produce
19th February 2007

Amcor Flexibles is proud to announce that it has been granted the exclusive sales licence from Rockwell Solutions Limited, to market its Sustainable Peelable PLA film for the global fresh produce market. This compliments the growing range of environmental films supplied by Amcor Flexibles under the Amcor NaturePlus umbrella and enhances Amcor's position as a leading supplier in this growing market
The PLA (polylactic acid) film, manufactured from cornstarch, is being used by Amcor Flexibles in its Amcor P-Plus range of tailored permeability films for modified atmosphere packaging. Amcor P-Plus is designed to maintain freshness and extend the shelf life of fresh produce.
The 40 micron material exhibits excellent peel characteristics to PLA, aPET, rPET, PVC and HIPS trays in ambient to chill conditions and thus provides added consumer convenience of easy opening. The film peels cleanly away from the base tray without any sharding and can be used on existing lidding machines. The film has also been formulated to include antimist to ensure clear visibility of the freshness of the product inside and is fully printable in either flexo or gravure to give highly attractive packs.
Amcor Flexibles is the leading flexible packaging supplier to the fresh produce market. Part of Amcor, one of the world's top 3 global packaging companies, the business operates 45 manufacturing plants in 18 countries in Europe and the Americas supplying a wide range of markets including food, healthcare and tobacco.
Reference: http://www.amcor.com/Default.aspx?id=1062
Shopping bags - a big opportunity for Bioplastics
Shopping bags made of plastics is certainly a field of application with a huge potential for bioplastics. Reusablebags.com estimates 500 billion to one trillion plastic bags are consumed worldwide every year. In the USA alone, n estimated 12 million barrels of oil are required to produce the 100 billion bags consumed annually. In Germany about 80,000 tonnes of plastic resin are converted into shopping bags each year. Up to now, just a small amount of these bags are made of plastics based on renewable resources and compostable plastics.
Different reasons, such as littering in some countries, the attempt to support the agricultural industry or simply to support sustainability in others, lead to different approaches in legislation.
Legislative attempts
In some of these countries taxes on shopping bags have been introduced. In March 2002, the Republic of Ireland, for example, became the first country to introduce a plastic bag tax, or PlasTax. Since 2003 a law in Taiwan requires restaurants, supermarkets and convenience stores to charge customers for plastic bags and utensils.
Other countries that have banned or have started a discussion to take measures discouraging the use of plastic bags include Australia, Bangladesh, Canada, Scotland, Italy, South Africa, Kenya, Mumbai (formerly Bombay), India and Tanzania.
In France, large supermarket chains like Auchan or Leclerc started to stop giving out plastic bags for free – a first step to reduce the number of plastic bags. 5 billion plastic bags were used in France in 2003, declining to 12 billion in 2004 and 9 billion in 2005.
Late last year, the lower house of the French Parliament passed an amendment to an agricultural provisions bill, which initially intended to ban all plastics packaging by 2010 unless made from biodegradable materials. The amendment was later modified in the French senate, so that now by 2010 all supermarket plastic checkout-bags have to be made of biodegradable material.
This legislative measure "has already created a noticeable impetus for market development", says Stefano Facco, as representative of Club Bioplastique in france. He stated that the French agricultural and local industry will increasingly profit from this legislation. He gave encouragement to follow this example and develop further initiatives to support the market introduction of bioplastics at both European Union and member state level.
With all these activities in mind, one should not forget the initial idea behind the plastic shopping bag. A consumer shall be able to go out for shopping without any provisions made to carry his or her purchases home. Otherwise, the old shopping basket or tote would be the most economical solution.
Bioplastics on the advance
Shopping bags made of bioplastics are clearly on the advance.
BioBag International as. (formerly Polargruppen), headquartered in Askim, Norway, for example produces and sells several million shopping bags made of Mater-Bi material per year worldwide. In addition to two manufacturing facilities in Norway and Belgium (in close cooperation with Jemaco NV) BioBag is present in 18 countries. Jorn Johansen of BioBag is convinced that biodegradable bags (shopping bags as well as waste bags and other film products for agricultural and technical applications) is becoming an important part of their business.
The German company Holm Folienverarbeitung, is one of the suppliers with the biggest number of bioplastic shopping bags produced in Germany, as H.M. Holm, owner of the company says. This pioneer in this business has already been producing biodegradable plastic bags for 15 years, including some export activities to The Netherlands, Australia and the United Arab Emirates. Most of Holm's bags are not the lightweight single use checkout bags as they are found in many countries. In Germany, the heavier reusable bags are much more common. "Even if these bags made of bioplastics are more expensive than fossil based plastic bags, many of our customers like the benefit of these bags being used as a conveyor for marketing messages" as H.M. Holm comments. A very successful bag is the so-called "Happy Bag" in close cooperation with natura packaging, that shows a photograph of fresh strawberries on one side and an empty field on the other, where e.g. small shops such as farm greengrocery stores can print their own logo. One big customer of biodegradable bags is the outdoor equipment supplier "Globetrotter". Customers of its six stores in Germany carry home their purchases in biodegradable bags made by Holm. Ditmar Bosecke, Head of Marketing at Globetrotter says: "Our customers very much like to be outside, they love nature and act responsible to the environment. So the availability of bioplastic bags offered us a good opportunity to do something in this respect as well." Globetrotter asked their customers in an internet poll about their opinion and as the result was overwhelming, Globetrotter decided to introduce shopping bags of biobased and biodegradable plastics right away. Globetrotter does not charge any money for these bags.
An Indian example
When Perses Bilimoria, founder and CEO of Earthsoul India, launched shopping bags made of Mater-Bi in India in 2001, hardly anybody wanted to believe that this could be a success in a developing country like India.
Today Earthsoul sells in excess of 300,000 shopping bags annually in India, certified according to EN 13432. Even if this number is small in comparison with the total number of plastic shopping bags being used in the country, "Earthsoul is creating an awareness and a special experience around the values of conservation, sustainability and dignity for the elements of nature for the customers who use an Earthsoul bag," says Perses Bilimoria.
Most of the customers are organic food markets, high-end pastry and delicatessen shops, liquor stores, deluxe hotels and spas. Perses Bilimoria believes that although this certainly is still just a niche market, these are customers who are decision makers in the corporate world and the message is clearly understood in terms of good green governance and sustainable environmental practices.
With a growing population of almost 1.4 billion (more than China), by 2025 India will have a mature market for bioplastics based on renewable natural raw materials such as corn starch, which can be easily sourced from within the country.
In addition, Perses Bilimoria has been instrumental in convincing the Bureau of Indian Standards (BIS) to implement and follow the guidelines of EN 13432 and ASTM D 6400-99 for bioplastics in India, together with adequate compost labelling protocols. India shall shortly adopt the equivalent to the new ISO 17088 or EN 13432.
Perses Bilimoria is somewhat concerned however about the fact that India – like Europe – is facing the problems of oxo-degradable and additive based synthetic polymers, saying that they are "flooding the market in disguise as "biodegradable bags". India is a very price sensitive market and most people are not educated on the aspects of biodegradability and compostability, thus it becomes very difficult to convince buyers about the difference between an EN 13432 certified product and those that are only degradable," Perses says.
Shopping totes – the fashionable style
Shopping bags made from renewable resources can also be completely different. Chameleon Packaging, a Division of Design & Source Productions, Inc., New York, for example, offers tote bags made of the PLA fibre material Ingeo™. Chameleon Packaging began developing samples with NatureWorks Ingeo fabrics in 2004, but realised that most fabrics were developed only for the garment industry, making them typically too soft for application in bags. The backbone of Ingeo has been so supportive, that NatureWorks has offered opportunities to discuss development for new fabrics that would be more suitable for bags. The few projects specified with Ingeo typically obtain much, but the average customer has not wanted in the end to pay the difference in material costs. "But as the costs come down and such bags become more competitive and give the opportunity to use better materials, there will be more and more inquiries, and that will turn into more projects," says Nicole Smith, environmental director of Chameleon Packaging. The customers need time to recognise that the material will still be around, be consistent, have enough production output to meet their needs, and be reliable in a few years time, as well as good for the environment. Chameleon Packaging's commitment to sustainable materials is steadfast, and it is convinced that Ingeo has a large potential for its current and future customers. "Overall," says Nicole, "I believe the non-woven material has the greatest potential. Non-woven bags have become really popular in all of the sustainably focused shops and stores".
Conclusion
These are just a few examples of the successful introduction of bioplastic shopping bags. Shopping bags made of bioplastics can definitely not solve all the problems connected with plastic bags. Littering, for example, is more a question of education than of the material. The effect of bioplastic bags on the killing of marine life in the oceans, if there is any, is not yet been sufficiently researched. But their advantages surely offer a market potential in the months and years to come.
Reference:http://www.bioplasticsmagazine.com/ Issue 02/2006 (Sept)
Excessive packaging under the spotlight again - Date: 26/01/2007
Campaign run in UK national newspaper. 26 January 2007 - A campaign launched by The Independent newspaper against "excessive" packaging of consumer goods has received some limited support from the Packaging Federation. Its new chief executive, Dick Searle, is happy that the national daily has laid blame at the door of the retailer and consumer – rather than the packaging industry. Searle, who took up the post at the Federation earlier this week, said: "At the end of the day the packaging is specified by retailers but often in the past the packaging industry has been blamed." However, he argued that it was unrealistic to think that demand for individually portioned meals will drop off due to environmental concerns. He said: "95% want to buy individually portioned meals and supermarkets are not stupid – people buy them because they want them and it's become an integral part of society as we know it." On Monday The Independent ran a series of articles around recycling and urged readers to write in with examples of "excessive" packaging, which it then printed on Tuesday. These have included: recycled loo rolls wrapped in non-recyclable plastic; plastic wrapping and bags around fruit and vegetables; oversized bottles for vitamins; and plastic wrapping around computer and electrical items such as memory cards. Searle said the newspaper missed an opportunity to highlight the lack of joined-up thinking between recycling and industry. While glass is recycled fairly easily more could be done with plastics, paper and card. He said: "It's a bitter irony that we are all arguing about energy – a lack of energy when we are thinking of not incinerating products." Finally, Searle added: "Is this campaign responsible – well are any of them? This is a way of selling newspapers. But have they struck a chord? I believe they have." Remarks made by the minister for the local environment, Ben Bradshaw, opened up a debate on so-called excessive packaging at the end of last year (see PRW.com 17 November 2006). Jane Bickerstaffe from the Industry Council for Packaging and the Environment (INCPEN) said: "INCPEN – which represents companies involved in all parts of the packaging and products supply chain – has campaigned against excessive packaging for years. "There's still room for improvement but things are moving the right way and the industry is not complacent."
Reference: http://www.prw.com
Product of the Week
Amcor HortiFlex
Amcor Flexibles has been working in partnership with Dutch company Flora Holland to develop a modified atmosphere packaging (MAP) system for flow wrapped fresh flowers called Amcor HortiFlex, known at Flora Holland as FlowPack. The partnership of Flora Holland and Amcor Flexibles - two global leaders in their respective markets of horticulture and MAP packaging - has resulted in an exciting new innovation for the fresh cut flower market.
The principal benefits of using Amcor HortiFlex are seen in improved product quality and logistics.
The specially developed packs can be transported and displayed in store without the need for any water. This means an improved display, reduction in maintenance whilst in-store, increased distribution options and of course easy and mess free transportation for the final consumer.
Amcor Flexibles and Flora Holland are now bringing this exciting innovation to the global fresh cut flower market place so that the benefits can be utilised by all. Selected customers are currently launching products with tailored Amcor HortiFlex packaging applications for their specific market. If you are interested in finding out more about Amcor HortiFlex and how it can benefit your fresh cut flower business then please contact us for more information at horticulture@amcor-flexibles.com .
Amcor Flexibles is the leading flexible packaging supplier to the Fresh Produce Market. Part of Amcor, one of the world's top 3 global packaging companies, the business operates 45 manufacturing plants in 18 countries in Europe and the Americas supplying a wide range of markets including food, healthcare and tobacco.
Reference: For further information please contact: www.amcor-flexibles.com
Major global PE and PP film consumers (2005,2009)
Reference: http://www.plasticsnews.com
Transport products boast odor control
Omniflex LLC has developed antibacterial, odor-control versions of its Transport waterproof, breathable films and its Vacuflex barrier films.
The Greenfield, Mass., firm says the new films combine several properties in a single lamination that also helps control mold and mildew in applications such as footwear, apparel, medical textiles and upholstery.
The Transport products are made of polyurethane, copolyester or ether-amide polymers laminated to fabrics. Vacuflex films are made of moldable polyurethane and are used in automotive trim and medical devices. The odor-control feature is based on technology from Omniflex's partner Etcetera LLC of Northampton, Mass. It relies on silver or copper chemistry, or both, or nonmetallic additives.
Reference: Tel. 413-772-3773, fax 413-772-1005, e-mail info@omniflexfilms.com.
Rockwell launches PLA peelable film by Luke Hutson 19/10/2006
Scottish firm uses proprietary heat sealing technology.
19 October – Rockwell Solutions, a UK packaging converter, believes it may have the world's first compostable, peelable lidding film for PLA trays. Biopic is a clear, peelable PLA lidding or flow wrap film for biodegradable applications. The company said the film is suitable for use in chilled and frozen conditions.
According to the Dundee-based converter, the film has a broad sealing window and can be perforated.
Rockwell uses its own heat seal technology and, according to its website, became one of the first companies in the United Kingdom to achieve ISO 9002 and BRC certification.
EPN's and PRW's Bioplastics conference, now in its 8th year, will be held on 6-7 December in Frankfurt, Germany.
Reference: For details contact Emap conferences on +44 (0)20 7841 4811 (International) or 0845 056 5069 (UK only), or visit www.bpevent.com
Featured Product - COMPOBAG (As featured on Plastics & Rubber Weekly)
Polybags launches new domestic biodegradable PE bag
West London blown film firm Polybags has launched Compo-Bag, a biodegradable PE bag. The bag degrades in nine to 12 months and is aimed at domestic users for their organic waste, such as vegetable peelings, tea bags and egg shells, prior to disposal on compost heaps.
Polybags produces both the film and the Compo-Bags, which, to date, have mainly been sold to private customers. They are available in a range of stock sizes and Polybags believes it is the first UK supplier to provide this service for a biodegradable bag.
The bags, which are based on an Oxodegradable additive system, were developed by Polybags in conjunction with London Metropolitan University's Polymer Centre through the governments' Knowledge Transfer Partnership. KTP associate Manthan Fadia was recruited by Polybags to help develop the Compo-Bag product range and its increase Polybags productivity.
Fadia says demand is picking up following the biodegradable bag's introduction. Commercial users of biodegradable bags and sacks, however, want a product that degrades more quickly than the current Compo-Bag, typically within three months.
As a result, this type of eco-product is now under development at Polybags, based on different degradability technology. Customer trials have been agreed with larger-scale users, such as local councils.
Polybags produces a wide range of bags and sacks, including printed carriers, grip and zip seal bags and waste sacks produced from recycled polymer.
For more information please visit www.polybags.co.uk & www.londonmet.ac.uk
Reference: Plastics & Rubber Weekly - 14th April'06